Toddler Candy Costume


Halloween is all about candy, so why not put your child into a toddler candy costume? There are some super-cute options on the market, and you can choose between fun costumes representing a wide variety of different candies. 

If you have a troop of children you're outfitting for Halloween, dressing them all up as various candies would be give a great candy bag effect, while still allowing each child to shine in their own individual costumes.

Toddler Candy Costume You Can Buy Online
For a little girl the Gumball Machine Costume is one fun candy costume option. It's a jumper with a clear top, where you can see the bright colored "gum balls' and a silver panel with a knob and chute door as the apron over the red skirt. This little dress closes with Velcro in the back, and is easy to put on and take off. With all those balls in the front it may not be the comfiest costume in the world to wear, but for a special occasion the effect may be worth it.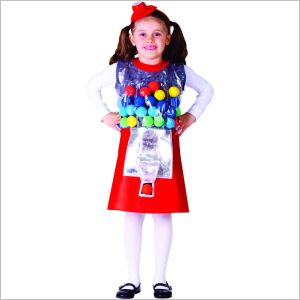 Gumball Machine Costume
One thing to be aware of: this toddler candy costume does tend to run small. The smallest size is 4T, but that should be a good fit for toddlers who wear 3T in regular wear.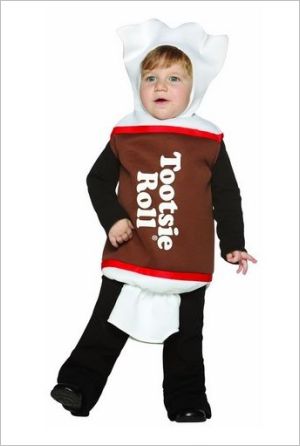 Rasta Imposta's Toddler Tootsie Roll Costume
Is your little guy a tootsie roll fiend? Announce the fact to the world by dressing him up for Halloween in a tootsie roll costume.  Rasta Imposta's Toddler Tootsie Roll Costume is one good possibility.  This 100% polyester costume consists of a tunic with a hood; the hood is one end of the white side-wrapper, and the other side sticks out between your child's legs. The body of the candy is your child's trunk. You'll want to plan for your toddler to wear a solid-colored long sleeved shirt and pants underneath; black jeans and a black turtleneck would look well.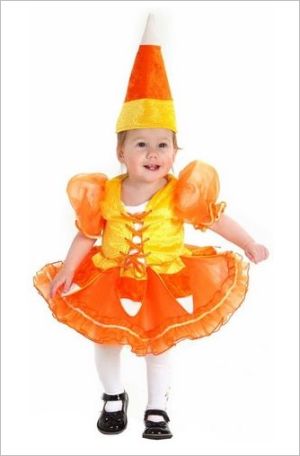 Princess Paradise's Candy Corn Princess Halloween Costume
For a candy corn aficionado,  you have choices. A 3T-wearing girl could go as a candy corn princess in Princess Paradise's Candy Corn Princess Halloween Costume. This beautiful costume is listed as toddler size 4, but tends to run small.  It consists of a fancy flare-skirted candy corn dress, in yellow and orange, and a yellow, orange and white pointed hat. Have your little girl wear this over a white undershirt and white tights for a complete effect.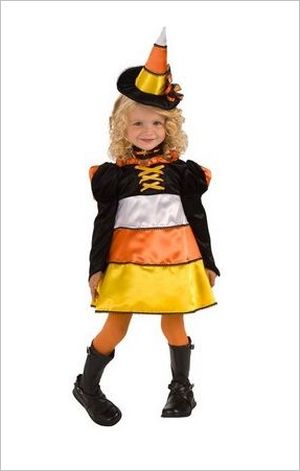 Rubie's Let's Pretend Candy Corn Witch Costume
Another costume with a wider range of size options is Rubie's Let's Pretend Candy Corn Witch Costume. It's the addition of black into the yellow, orange, and white that lend the witch effect, along with a black brim for the pointed hat. This costume is three parts: a candy corn dress, a choker, and a hat. 
Or if your toddler is one of those who waits all year for easter and easter peeps, have him dress up in Rasta Imposta's very unique Peeps toddler costume. This stuffed peep tunic looks pretty much exactly like the candy, and will be warm for those cold October night. Pair it with dark jeans and a long sleeved shirt. Downside of this costume? It's meant to be one use only, and can't be washed; if your toddler gets chocolate on the front after the first house there's nothing to be done but spot clean.
Are you going with a toddler candy costume this year? Send us pictures of your little guy rigged up—we'd love to see them!
Click here to return from Toddler Candy Costume to Toddler Costumes

Click here to return from Toddler Candy Costume to Home Page