Toddler Car Beds


Toddler car beds are special toddler beds built to look like cars—an exciting way to change up your toddler's otherwise boring bedroom and make it look like a really, really cool garage.  A toddler bed, by definition, fits a crib mattress, and the smaller size of them means that it's fun to go all out making this bed special. You can find these specialized beds in a wide variety of different styles and makes, depending on your budget, your child's taste, and whether you want something that will convert to a twin or whether you're happy with a smaller, more compact 'just toddler' bed.

Toddler Car Beds You Can Buy Online

Little Tikes Princess Pink Roddler Toadster Bed
If the little person who has instigated your search for toddler car beds is a little girl—and she likes pink—you can't do better than with Little Tikes Princess Pink Toddler Roadster Bed; a glittery hot pink bed made of sturdy plastic. This bed is easy to assemble, though you will need to buy slats or plywood (or use the ones that were in your little girl's crib) when you set it up. It's a nice little bed that won't take up much room in your daughter's bedroom, but is certain to brighten up the whole place. And even if she wasn't immensely excited about cars before you bought the bed, she will certainly be excited about the fun new car in her room.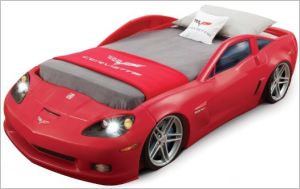 Step 2 Corvette Bed
The Step 2 Corvette Bed is a toddler bed that can convert into a twin bed when your toddler outgrows his crib-sized mattress.  The LED headlights can serve as a nightlight for your child, providing a steady beam for when he has to make that midnight trip to the bathroom. The sturdy plastic can be wiped down when needed, and is durable enough to stand hard treatment from your toddler and, later, you elementary school child.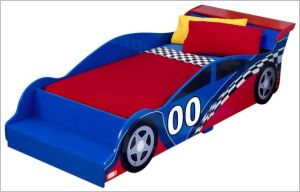 Kidkraft Race Car Bed
If you want a wooden car bed, there's a Kidkraft Race Car Bed in red and blue that will add a certain track meet spirit to your toddler's room. It's low to the ground, and the racecar windows make bedrails that can help keep your toddler where he belongs—on the mattress, not the floor. There's a little bench at the footend which your toddler may enjoy sitting on when he reads a story; or you can use it as a shelf for his car collection. There's another higher shelf at the head end of the shelf, though; the spoiler on the car makes a good place for a clock, a light, or a bedtime story.  This Kidkraft bed is nice and sturdy, and though assembly is required, it is all simple and straightforward—you should be able to get it together in half an hour. 
Car Bedding for Your Toddler Bed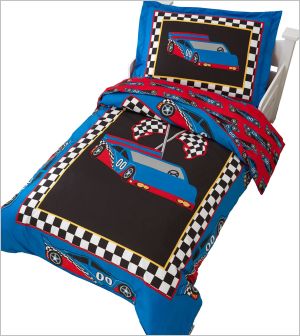 A nice set of toddler bedding that fits perfectly with the Kidkraft race car bed is Kidkraft race car bedding,  a set of four: comforter, pillowcase, flat sheet and fitted sheet.  Red, black, and blue are the primary colors of this set.  Since these sheets fit any crib mattress, you can use them with other toddler car beds as well—though the colors may clash with the pink roadster.

Click here to return from Toddler Car Beds to Ideal Toddler Bed