Toddler Car Seats


Toddler car seats—the one absolutely necessary piece of furniture for any toddler being raised in the developed world. There are many purchases you will enjoy making a lot more than you enjoy buying your car seats, but there are few that are more important to your child's safety.  The quality of your car seat can mean the difference between life and death, between debilitation and safety.

This is one purchase it's not worth cutting corners on. Studies show that car seats lower the risk of infant death in car collisions by as much as 71 %.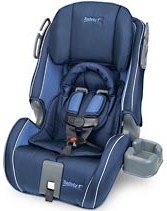 Little Baby Car Seats, Big Toddler Car Seats
When your toddler was a baby he probably rode in a rear-facing infant seat or a rear-facing convertible car seat. Now, if he is at least a year old and weighs more than 20 pounds, he can use a forward-facing toddler car seat or you can turn the convertible car seat forward facing. A booster seat won't be appropriate till the very end of toddler-hood, when your toddler is at least four years old and weighs at least forty pounds.    
How do you manage the switch? Make sure you read your car seat instruction manual carefully and install the seat safely.  After you've installed your car seat, you can visit one of the car seat inspection centers set up by the federal government all over the country, and get your work checked. 
Buying Your Car Seat

There are a number of things you will be weighing in your mind when you go car seat shopping. These probably include:
• Convertible or Front-facing?
• Which company?
• New or used?
We'll examine each of these questions more closely here. 
• If you're buying  car seats for tots, should they be convertible or front-facing? The main pro for convertible is that you can use the same seat from 5 to eighty pounds—and since your toddler is already a toddler, that won't be important to you. Unless you'd like to pass the car seat on to new baby brother or sister and have him use it from day 1, you probably want to buy a front facing.  These seats are made just for toddlers, and they are usually good from 20 to 80 pounds. 
• Which company should you buy from? There's no one 'good car seat company', but buy from a reputable brand and check their most current safety stats before you decide to go with them
• New or Used?  You can save a lot of money with a used car seat, but you may be putting your toddler's life on the line—and your money can't be better spent than keeping him safe. Car seats are no longer safe after they've been in any kind of collision, and if you buy a used car seat you won't know its history. It's better to save on clothes and shoes and go with a brand new car seat. 
Of course, that's not all: you'll also be trying to choose between color schemes, extra features—is a cup holder important, or do you want a built in cozy pillow? – and a whole host of practical features. Does the car seat fit nicely in your car, and is it easy enough for you to use? Can your toddler open the latch himself? If he ends up learning how, you'll either have to get a new car seat or put a child safety latch over the existing latch. It's important your toddler stays locked in the whole time you're driving.  
Take your time over toddler car seats research. Remember, this is an important purchase, and if you make it a good one, you'll be using this seat to keep your toddler safe for the next three to five years.
Click here to return from Toddler Car Seats to Toddlers Furniture