Toddler Christmas Stocking


Hanging toddler Christmas stocking is a way of getting ready for Christmas. These preparations can be some of the most fun moments of parenthood. It's not your child's first Christmas, but it's the first Christmas he can remember, so it's important that you have everything all set for making as many memories as you can. 

Here we'll look at just one part of the Christmas tradition—the Christmas stocking. A Christmas stocking is a very important part of the big day; hanging up for weeks before Christmas it reminds the child of the big day approaching and helps him get excited, and there's nothing more fun, to toddler eyes, than spilling it all out on Christmas morning. What's the best stocking for your toddler's Christmas?
The Best Toddler Christmas Stocking

A toddler will be happy with and excited about any stocking you choose for him; the key is that it is his, and that it will be stuffed full of treats on Christmas day. But there's no toddler Christmas stocking as special as the one you make yourself for your toddler. A stocking made by mom (or dad!) is an instant heirloom; your child will use it now, throughout the growing up years, and will still treasure it when he or she is grown. 
How do you make a Christmas stocking for your toddler? It's not hard; for the simplest manifestation, all you nee is red and white felt; cut two identical stocking shapes out of the red felt, sew them together, and use the white to make a cuff at the top where you can write or embroider your child's name. 
Or you can get fancy, and make a Bucilla stocking for your Toddler's Christmas. 
Bucilla Stockings: Fine Craftsmanship for Everyone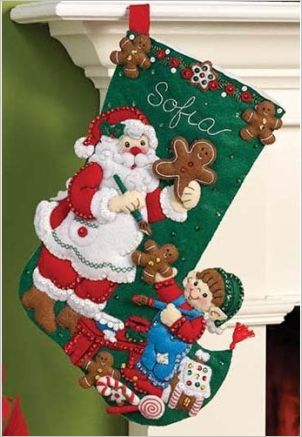 Bucilla Christmas Stocking Felt Applique Kits  are stockings you make for your toddler, but you make them with a kit that includes all the necessary bits and  pieces, already prepared, marked, and ready for you to sew or applique. They include detailed directions, and if you follow the directions step by step you'll end up with a masterpiece that will thrill your child and be a Christmas decoration you can be proud of year after year.  Note: you may need to add your own simple felt backing to make the stocking complete. 
One fun thing about Bucilla Felt Applique Christmas Stocking Kits is that there are so many of them to choose from. Pick one now that matches your toddler's style and temperament, and when and if another siblings comes along later you'll be able to make an entirely new and individualized—but still, in a vague way, matching—stocking for that new little person. 
Some of the Bucilla Felt Applique Christmas Stocking Kits you have to choose from include:
All Aboard: A  happy snowman drives a Christmas train engine, while snow falls on the bright blue background of the 16" stocking. The train wheels scallop the bottom edge.
Christmas Cookies: Santa and a little person make gingerbread men together; the background of this 18" stocking is a Christmasy forest green.
Pick a Tree: Santa, followed by a happy snowman, carries a beautiful decked tree over a white hillside. This blue and white stocking is in the 15" size. 
Cupcake Angel: In this 18" forest green stocking, a beautiful cupcake angel delivers Christmas treats. 
Patchwork Santa: A tall and solemn Santa with his arms full of gifts peers out of Christmas red background on this 18" stocking. 
Sugar Plum Fairy: Pretty in pink, a Sugarplum fairy dances over the Christmas Tree. This 18" stocking is primarily forest green. 
Have fun making your toddler Christmas stocking—a treasure for years to come!
Click here to return from Toddler Christmas Stocking to Toddler Christmas
Click here to return from Toddler Christmas Stocking to Home Page