Toddler Clown Costume


What better recipe for fun than a toddler clown costume? And since your little son or daughter is all about fun, a toddler clown costume can be a wonderful choice for any fair, festival, fancy dress party, or Halloween bash.  Your toddler may even want to wear it everyday, and he or she will look cute enough—till the outfit is in tatters—that you might not mind giving permission.

Making Your Own Toddler Clown Costume
A clown costume is one you can always improvise; all you need is a supply of big buttons, bright colored fabrics or felts, and a good bit of imagination. Try making a tall hat with bright red and blue felt; you can either sew or glue. Let a colorful bowtie be the next part of our project. There's no one correct way to make a clown costume, so you can experiment with different ways of putting your bright fabrics together to make a fun costume that your toddler will be proud to wear. Buying a wig and some face paints will add the perfect finishing touch.
Buying a Clown Costume for Your Toddler
You can make your own toddler clown costume, but there are such a variety of very cute and very fun costumes available to purchase that—unless you're an accomplished seamstress who needs an extra outlet for creative energy—buying one makes the most sense. Buying online is easier even than going to the shops, and you get to choose from a world of options. Here are some of the best ones we've found.
Forum Novelties Clown on the Town Costume
The Forum Novelties Clown on the Town Costume is a wonderful sample of the basic traditional clown costume: as bright as you can get, with patterned pants, a long blue, green, red and yellow frockcoat, a bowtie and a red and blue clown hat. Extras you might want to buy are a clown nose and wig, but your toddler will look clownish enough without those as well! It's all polyester, and the fabric seems it will hold up to some rough handling.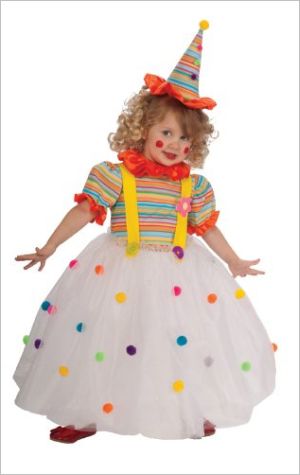 Rubie's Candy Clown Costume
If you have a little daughter who would like to be a clown and still be pretty, set her up with Rubie's Candy Clown Costume. This outfit includes a rainbow shirt, a poufy white skirt with colored polka dots and yellow suspenders, and a rainbow striped pointed hat. There are plenty of ruffles and pretty touches to delight our little girl's heart; and at the same time, if the candy clown isn't a real clown, I don't know what is! The one downfall to this costume? It's not really made for more than a few wears; the pretty pouf balls and buttons are easily detachable, and are likely to come off in the wash if your daughter doesn't pull them off before. Of course, you can always stick them back on with a bit of superglue.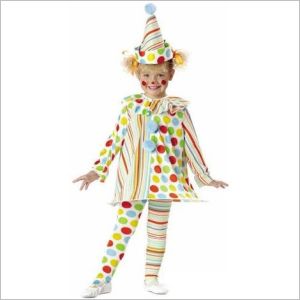 Wilton's Circus Candy Clown Costume
One other cute clown costume that deserves mentioning is Wilton's Circus Candy Clown Costume; a gentler, more comfortable clown costume for someone who doesn't want bright, clashing reds and greens but also doesn't need a poufy dress. This is lighter colored costume, a little easier on the eyes than your traditional clown costume, and still lots of fun. The costume consists of a pointed stripy hat, a top, and leggings; the top and leggings are half bright colored stripes and half bright polka dots; on alternate sides. Pom pom balls and a ruffled collar finish the clown effect. 

Have fun dressing your toddler up in a toddler clown costume, then take lots of pictures.
Click here to return from Toddler Clown Costume to Toddler Costumes

Click here to return from Toddler Clown Costume to Home Page