Toddler Cowboy Boots


Toddler cowboy boots are more than just special shoes for dress-up, although your little one may feel so big and dressed-up in them he struts about as if he was playing peacock. They're also good, sturdy shoes for regular wear, and your little one can wear them with jeans or nice pants anytime you want him to look particularly spiffy.

Cowboy Boots: The Basics
What are cowboy boots, really? Simply boots modeled on those which old-time cowboys used to use for everyday work and Sunday dressup: durable leather boots that protected the lower leg from the thorns and thistles and the sole from the rough ground. Since cowboys and horses are always together, they typically had heels which could grasp the stirrup. 
Today, cowboy boots are used by people of all ages more as a fashion statement than anything else. If you get a good pair, though, they can be a pair of work boots that is better than any other. 
Toddler Cowboy Boots: What to Know Before You Shop
When you're going shopping for toddler cowboy boots you'll want to pay attention to quality and read reviews or recommendations carefully. Some boots sold as cowboy boots are simply flimsy costume material; the kind of thing that begins to break if worn for longer than one Halloween night. They're uncomfortable and don't provide any support for the foot, either. 
A good toddler cowboy boot will be:
• Comfortable
• Durable
• Have a solid appearance
• Be, essentially, a work of art. 
Where to Buy Your Toddler's Cowboy Boots
You can buy toddler cowboy boots at most shoe stores and even, sometimes, in regular clothing stores, but if you want the largest selection possible you'll want to go online. Amazon.com lists a wide variety of toddler cowboy boots, and their review system makes it easy to see which are quality products and which are junk.
One pair of quality toddler's cowboy boots you can order online are the Baby Deer Western Western Boot, in toddler sizes.  This is a synthetic boot, made of faux leather with man-made inners and a man-made sole, and it is engineered especially for toddlers with the flexibility little people need, as well as some helpful ankle support. These are slip-on boots, but your toddler shouldn't have much trouble getting them on, and if they're in the right size they'll stay on nicely too. 
Baby Deer Western Western Boot
If you prefer natural materials, Smoky Mountain 3246 Toddler's Hopalong Leather Boot may be more ideal for you. Here's another top notch toddler boot, and this one is made of real quality leather, with a real rubber sole. The lining is man-made, and this boot is also comfortable for a toddler to wear for long periods of time, and cool enough to make your toddler look like he belongs in the best western movies. They are also easy to put on and take off.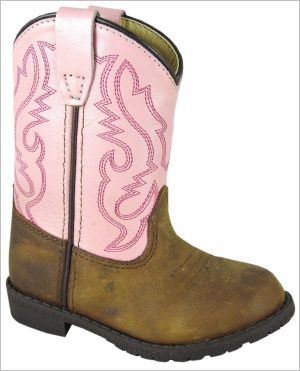 Smoky Mountain 3246 Toddler's Hopalong Leather Boot
Whenever you buy a new boot for your toddler, pay attention to the fit. Toddler's shouldn't be wearing shoes that are too small; if you buy a shoe that is too big, you can choose to either have your child wear it with extra socks or put it away till he grows. Have him or her 'break in' the shoes for a few days by wearing them for shorter periods of time before wearing them for a long expedition.

If you follow those rules, your toddler cowboy boot experience should be a good one. Have fun!
Click here to return from Toddler Cowboy Boots to Toddler Footwear