Toddler Cowgirl Costume


A toddler cowgirl costume is a fun choice for a little girl who loves horses, cows, and the outdoors, and still has a good amount of fashion sense. That's because a good cowgirl costume for kids manages to be chique and good-looking while still bringing in a good hint of outdoors, prairie wind, and free-as-a-mustang ranch life. 

Choosing Your Toddler Cowgirl Costume
The first thing you want to think about in buying your cowgirl costume for toddlers is whether it's just for one or two special occasions, or if you want your daughter to be able to use to for everyday dress-up. If your little one is a fired-up cowgirl who wants to be dressed for the part every waking minute, you'll want a cowgirl costume that can go in the washing machine. Toddlers get dirty quickly, and washing that thing by hand every time it gets dirty will get old very quickly—or, even worse, sending it to the dry cleaners.
After that, think about your daughter's preferred style. Is she pretty in pink, or does she prefer shades of brown. Satin sweetness, or tough leather? There are a variety of cowgirl outfits available for toddlers, so you should be able to match your little girl fairly well. 
Buying Online
During the costume season you may find a random cowgirl costume at the regular shops you go to, but if you want a wide selection year round you'll really have to go online.  Aggregate marketplaces like Amazon are some of the best places to shop for specialty items like costumes, and they allow you to browse from a wide selection of costumes available to be shipped to your door. 
Here we'll highlight three of the best toddler-sized cowgirl costumes:

• Melissa & Doug Cowgirl Role Play Set
• Toddler Cowgirl Costume from FunWorld
• Baby Girl's Rodeo Sweetie Toddler Costume from FunWorld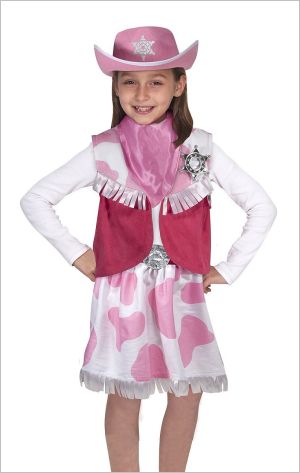 Melissa & Doug Cowgirl role play set
The Melissa & Doug Cowgirl role play set  is probably your best bet if you want something your daughter can play in everday. This set includes a skirt (with a pink cow-print), a pink bandana/scarf, a sheriff's badge, a vest, and a hat. The clothing items can be washed in the machine on cold, and should hold up through quite a few washings. They are soft and comfortable for wear, and they look pretty cool, if rather pink.  This is a one-size-fit-all toddler costume, and is probably closest to a size 5T, but a two year old can wear it too: the vest will just be a little roomier on her, and the skirt longer.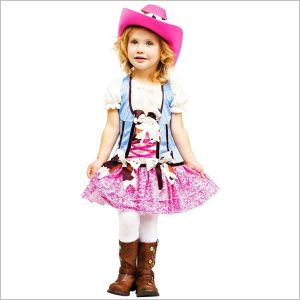 Baby Girl's Rodeo Sweetie Toddler Costume
Baby Girl's Rodeo Sweetie Toddler Costume is another very cute pinker-than-pink little girl's toddler costume. This is more of going-out wear, meant for cowgirl dances or Halloween parties. You can wash it, but you'll have to do that by hand. The costume consists of a very sweet dress with a fluffy skirt, and a pink cowgirl hat.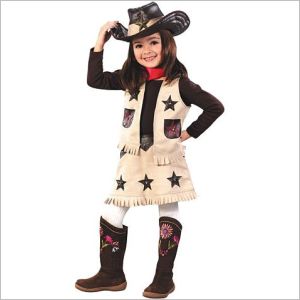 Funworld's Toddler Cowgirl Costume
If you or your little daughter are in the browns are better camp, a nice cowgirl costume that hasn't got a spot of pink on it is Funworld's Toddler Cowgirl Costume. This classy star-spangled costume includes a  brown cowgirl hat, a fringed skirt, a vest and a scarf, and is perfect for a more serious little cowgirl or would-be-sheriff.

Which toddler-sized cowgirl costume meets your little girl's needs?
Click here to return from Toddler Cowgirl Costume to Toddler Costumes

Click here to return from Toddler Cowgirl Costume to Home Page