Toddler Crib


A toddler crib is typically a crib that can be used as a standard baby crib when your child is small, and transformed to a toddler bed when your child is one or two simply by lowering or changing one of the rails.  It means you don't have to purchase an extra, toddler-sized bed for the toddler years, just to have your toddler outgrow it when he turns four or five. And it gives your toddler a little continuity; while making the transition to a 'big toddler bed' he'll still have the old familiar wooden bars about him. 

The Bottom Line When Shopping For a Toddler Crib
Your toddler crib purchase is probably one of the more major ones you make as you outfit the nursery, and it's a purchase you're only making once, so you want to get it right. What is the bottom line when shopping for a crib? 
There are two key  things to ask yourself when you are looking at beds. They are:
Will this bed really be fully appropriate for both a baby and a toddler?
Is this bed sturdy enough to last?
When buying a crib for extended use you'll want to make sure that the bed actually works well for both for a baby and a toddler; something that can be made to function for both but is ideal for neither is not worth spending your money on.
Also, make sure the bed is sturdy; you're going to be using this bed for quite a few years, and if your newborn isn't into climbing, jumping, and practicing monkey skills, your toddler will be. 
A Crib for Your Toddler: Looking at the Kalani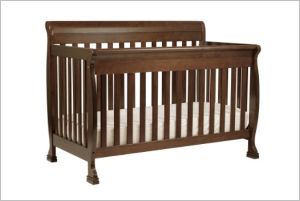 Kalani 4-in-1 Convertible Crib with Toddler Rail
The DaVinci Kalani 4-in-1 Convertible Crib with Toddler Rail is one beautiful example of a convertible toddler crib.  When your toddler is a little baby this bed is just a crib; a quality hardwood crib made of New Zealand pine from sustainable forests. The bed is finished with non-toxic finishes to a lovely dark espresso, and, with open-rail sides and a flat, solid bottom, is perfectly safe for even the most vulnerable newborns. It's a good crib; the kind of furniture that will look classy in your baby's nursery but is also completely convenient and practical as well. 
When your child grows into toddlerhood and needs a bit of independence, you take off one of the side-rails, replace it by an included half-height, half-length toddler rail, and you have a toddler bed for your child—but he's as comfortable as ever in the crib that has been his since earliest babyhood. When your toddler outgrows the crib sized mattress, the bed can be converted to a sleigh-type twin bed, but you'll need to buy a special kit for that. 
The Kalani crib isn't the cheapest bed on the market, but when you consider that it is a sturdy piece of furniture that will last your child for many years, it may be worth the purchase.  There are other similar  convertible cribs available. Just remember, when you buy a crib that you mean to continue using through several phases of your child's life, that you need something that is built to last. 
Click here to return from Toddler Crib to Toddlers Furniture