Toddler Crocs


Why put sneakers on your little one when he can wear toddler crocs? In many ways, crocs are ideal footware for little people during the summer months. No fussing with laces or annoying Velcro; these shoes are easy on and easy off. If the little guy steps into a mud puddle; no problem; you can give him a quick hose down when you get home if there's any mud left by then.  When you're at the beach he can wear them into the water, but they're perfect playground shoes too: good traction for climbing up that slide, and they won't fall off when he's charging across a bridge or hurtling at top speed after a ball.

Toddler Crocs: The Basics
What are crocs? They're a kind of cross between a shoe and a sandal; made of a comfortable, ergonomic rubber that feels good and soft to your feet.  The rubber is anti-odor too, so your toddler isn't likely to have smelly feet when he's wearing these.
Since the soles of crocs are flexible, they are in many ways the second best thing for little feet just developing: they'll allow your child's muscles plenty of motion.
What's Not Perfect About Crocs?
The negative aspect to crocs is their lack of ventilation: they are ventilated through little window-holes, but, being made of rubber, that is the limit. The rubber they use is not just any rubber; it is  marketed as a special resin with a number of foot-friendly properties, but breathability isn't one of them. 
You can also expect plenty of sand to get into the shoes when your child is playing in the sandbox; and lots of mud to seep in when he walks into a mud puddle. This comes with croc-wearing territory, so just be ready to wash the little feet when your toddler gets home. 
Where to Buy Toddler Crocs
Where can you buy your toddler a cute pair of crocs? There's no better place than Amazon, though you may want your child to try on a few pairs at a shoe store for sizing. Shoe stores tend to have a poor selection, though, so just get the numbers you need there and then buy them online.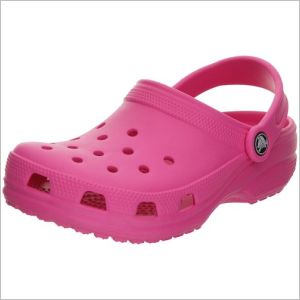 Classic Cayman Toddler Crocs
Classic Cayman Toddler Crocs are available here, in all the toddler sizes and colors you might possibly want.  Is your little guy into serious things like black, chocolate or navy; or do you have a girl who would like pink lemonade, fuchsia, or neon magenta? Or maybe your little boy is all about ocean, citrus, or volt green-- or do you have a small experimentalist who would love nothing better than a combination of violet and volt green? It's all there for the picking; more colors than you've ever seen crocs in before—even if you've seen a lot.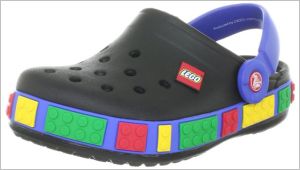 Kid's Crocband Lego Clog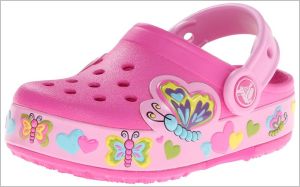 Crocs Lights Butterfly PS Clog
There are some other special options available as well. If your toddler is into legos, he may love the Kid's Crocband Lego Clog: a toddler croc with fun lego motifs around the sole. This style is available in four colors, and is appropriate for both boys and girls. CrocsLights Butterfly PS Clog is a toddler croc with butterfly  and heart motifs; a very pretty choice for any toddler girl.  And the CrocsLightsRobo Shark PS Clog sports a very serious shark mouth; the ultimate in coolness for many toddler boys. 
Have fun shopping, and chose the perfect model for your special toddler!
Click here to return from Toddler Crocs to Toddler Footwear