Toddler Dinosaur Costume


Are you bringing up a dinosaur? A toddler dinosaur costume may be a must-have at your house, either for Halloween or everyday dress up time, if those prehistoric creatures have your child's imagination fixed. The good news is that, unlike many other animal costumes, you have a wide variety of quality options available to choose from when it comes to buying your toddler's costume online. 

What kind of dinosaur would your toddler like to be? Something half-dragonish that looks like it came out of a fairytale, or a realistic version that could have stepped out of a Dinosaur Encyclopedia? Either way, you need have no worries: there are such a variety of dinosaur costumes for kids available that you should be able to find the perfect one for your toddler. 
Buying A Toddler Dinosaur Costume Online
Amazon is the perfect place to buy a toddler dinosaur costume. You have a huge selection available, and, what is more, you have access to hundreds of parent reviews and get to hear from other people who have already made the purchase and noted down whether they were glad or sorry they did.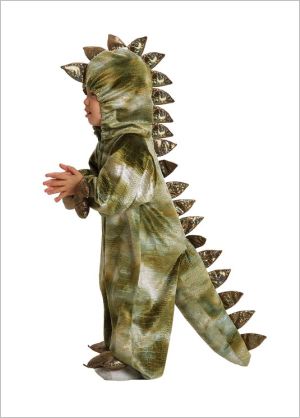 T-Rex Dinosaur Deluxe
Or is T-Rex the thing to be at your house? Then buy your toddler a T-Rex Dinosaur Deluxe: a fun T-rex jumpsuit in a fun green coloring on sturdy fabric, with a stout and sparkly spine and a hood.  The sizing on this costume is small, but the manufacturer gives accurate dimensions, so you'll want to measure a sleeper that fits your toddler well and use that to choose the size you buy.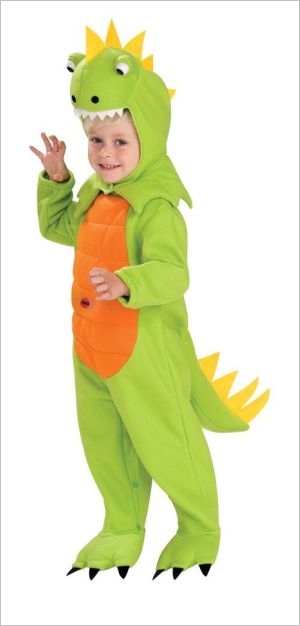 Rubies Talking Plush Dinosaur
If a more story-book style dinosaur is what you are looking for  Rubies Talking Plush Dinosaur is a good option. This light green dinosaur jumpsuit features features impressive claw feet, a little spined tail, and a spined hood. And this dinosaur doesn't just talk—he roars! Your toddler will enjoy pressing the belly button on his bright orange belly and hearing an impressive dinosaur roar emitted.  Some parents report that the ankle and feet openings are not well hemmed and tend to unravel after use; otherwise, this is a high quality costume your child will love.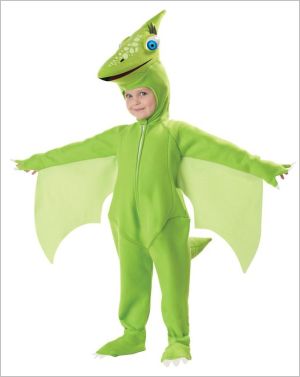 Tiny Ptetersauraus Costume
Or want to be a Ptetersauraus? Then California Costume's Tiny Costume will set your toddler up in no time, with a green jumpsuit and shoe covers and a pointy-horned ptetersauraus head.  Your toddler will love to flap his wings when running down the sidewalk, and his tail will waggle as he walks.  The zipper makes this outfit easy to put on and take off, and this costume is likely to be worn by your child many, many times before it is outgrown. 
Indulging your toddler's love of dinosaurs with a toddler dinosaur costume will be one of the most fun things you do today, so check your sizing—remember, costumes usually run small—and make your order now. Then all you have to do is wait for the postman to come with a box, and you can stand there and watch your little one's face as he first sees himself in a mirror. 
Click here to return from Toddler Dinosaur Costume to Toddler Costumes

Click here to return from Toddler Dinosaur Costume to Home Page