Toddler Dog Costume


A toddler dog costume is a superfun way to let your toddler play dress up—after all, what can be more fun than the leaping on all fours, barking, and biting and pulling everything around? And then, of course, it  can also be an adorable costume for trick-or-treating or costume parties.

You can make your own toddler dog costume if you're handy with a sewing machine; buy cozy plush material and sew a jumpsuit with a hood, long floppy ears, and a tail.  If your toddler still wears sleepers, one of these can easily be turned into a pattern to help you make the new costume the perfect size.
If you're not quite so crafty-inclined, you can also buy a cute costume on Amazon with very little hassle. Here we'll look at some of the best options for commercially available toddler dog costume.
Buying a Toddler Dog Costume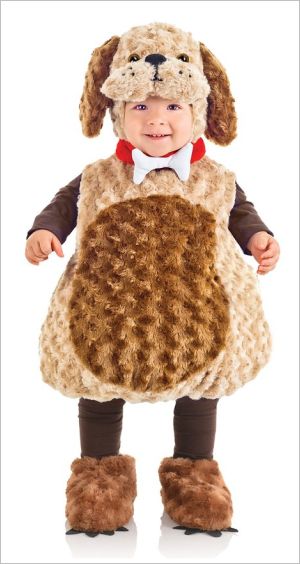 Underwraps Puppy Belly-Babies
One favorite among toddler parents is the Underwraps Puppy Belly-Babies costume. This costume consists of a headpiece; with a puppy dog face as well as long droopy ears, a big round dog belly/bodice, and two dog booties. The entire costume is cozy high-quality, plush material; when your toddler wears this costume he'll look and feel like a cute stuffed dog.  You can choose between black and white or brown/tan; both are fun options. If you chose a brown doggie you'll probably want to pair it with a dark brown shirt and tights or brown sweatpants; or a black shirt and pants if you're doing black and white. This costume comes in M, L, and XL; parents report that M fits well for 18 months, L for two and three year olds, and X-L for 4-6.
InCharater Infant Puppy Costume
Another cute and cuddly puppy dog costume is the InCharater Infant Puppy Costume, a brown and white puppy dog outfit that consists of a bodysuit, booties, and a hood. This is a coverall so you won't have to worry about coordinating colors underneath, but parents do report that the material is thin and could be softer. It is available in baby sizes and 12-18 and 18-24 month options, and tends to run a little small. This costume can be washed in the machine on cold.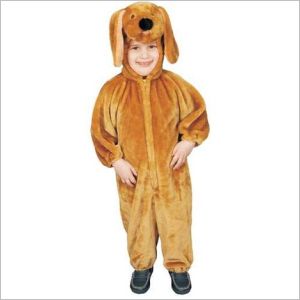 Dress Up America's Child Puppy Costume
A nice puppy costume that comes in all sizes—even adult, should you want to match your child for a special occasion—is Dress Up America's Child Puppy Costume.  This is a plush brown jumpsuit with a fun tail and a puppy dog hood attached, and the fabric is thick and soft; too warm maybe for hot summer weather, but perfect for chilly October days. The elastics around the cuffs mean that it stays well in place, but you'll want to order large; the sizing convention tends to run smaller than is standard. 
There you have it—three fun puppy dog costumes that your toddler is sure to love.  Remember, he won't be cute and cuddly for ever—take pictures and save these memories!
Click here to return from Toddler Dog Costume to Toddler Costumes