Toddler Dress Up


A toddler dress up chest is an important part of every playroom. Toddlers love to role play and pretend to be all of their favorite storybook (or real life) characters, and the greatly enjoy being able to do it authentically. Providing  your little ones with a set of dress-up clothes is giving them one more outlet for their imaginative and creative genius to unfold.

Putting Together the Toddler Dress Up Chest
Your dress-up chest will probably be a mismatch of all sorts of odd items. That's well and good; the more random items your child has to play with, the more roads his imagination will be able to go on. 
You can put go on a trip to a second-hand store like Goodwill and bring home a collection of all kinds of discarded finery for your child to use as dress-ups, or you can put together a collection of Halloween costumes [link to costumes topic here] for play. For a more 'instant' toddler dress up chest, you can also buy a prepared collection of dress up things, toddler sized.  These kits are not a meet-all end-all; you'll likely be adding to your toddler's dress up collection continually. But they're a good place to start
Jumpstarting Your Toddler's Dress Up Collection
Here are some easy ways to jumpstart your toddler dress up collection, without going through the trouble of finding and buying individual costumes.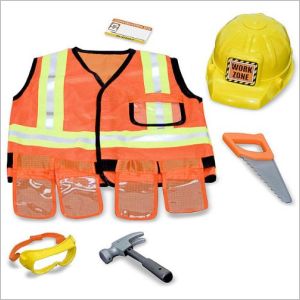 Melissa & Doug Role Play Bundle
For a child who likes to play at different career choices, the Melissa & Doug Role Play Bundle may be pretty near ideal. Here you've got an outfit and role play equipment for a fire chief, construction worker, and train engineer.  It's all the high quality stuff you'd expect from Melissa & Doug, and there are more than enough accessories to make your toddler's play really really fun.  The fireman has a bright red jacket,  a fireman's hat, fire extinguisher, a bullhorn and a name tag. The construction worker has  an orange construction vest, complete with reflective material, a stout hard hat, goggles, hammer, saw, and nametag. But that's not all, there's the engineer too, and he gets a blue smock, a hat, walkie-talkie, train card, hammer and wrench—oh, and a name tag too! So you have a lot in this bundle, and your children should not run out of things to do for a long while.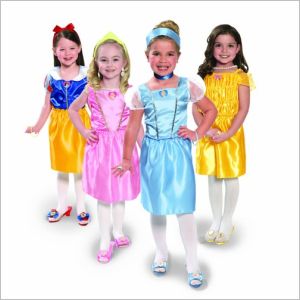 Disney Princess Dress Up Trunk
If it's fancy dresses and jewelry your toddler craves, the Disney Princess Dress Up Trunk is another option. This isn't quite the quality of Melissa & Doug, but the price tag is less. You get three and a half princess outfits; four blouses and three skirts, and then a passel of fun jewelry and hairbands to wear with it.  The jewelry is cheap and the outfits are thin, but they're soft and fun to wear, and the fact that they're shirt/skirt combos rather than dresses means your little girl can mix and match to her hearts content. The set comes in a pretty cardboard trunk which won't last forever but is nice while it lasts.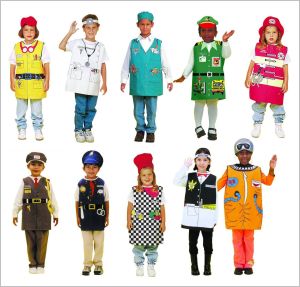 Childcraft's set of ten Occupations Costumes
If you want a whole lot of toddler dress up sets that many children can play together with, another option is Childcraft's set of ten Occupations Costumes.  Ten outfits (or smocks) and ten hats or headbands: there's a bus driver,  a food-service server, an astronaut, a postal worker, a doctor, a veterinarian, a chef,  a firefighter, police officer, and construction worker. The suits are not the highest quality there is, but they're made with some fun details and your children should be able to get a whole lot of fun out of them. 

Give your toddler lots of freedom to explore, then take lots of pictures when he does!