Toddler Fairy Costume


Your little girl is a fairy—why shouldn't she dress like one? A toddler fairy costume is a fun way to indulge your little daughter's taste for all that is airy, light, and beautiful, and let her look in person like one of those ethereal beings she is in heart. 

Putting Together A Toddler Fairy Costume


What do you need in a fairy costume for your toddler? A dress in pale or woodland colors, light and airy, that makes your small daughter look like she is floating on air. A tutu could do it, or a floating princess skirt.; or perhaps a leaf skirt for a garden fairy.  Then every fairy needs wings: not butterfly wings, but light, almost see-through fairy wings.  While a wand is not a fairy requisite, Tinkerbell would travel with a wand, so if that's who you're little daughter would most like to be,  it makes sense to supply her with one as part of her pretty fairy costume.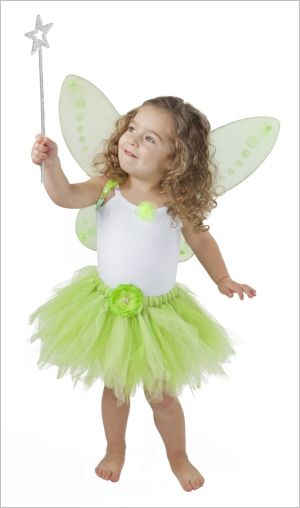 Tinkerbell Costume for Parties and Dress Up
Heart to Heart's Tinkerbell Costume for Parties and Dress Up  may be a perfect toddler fairy costume for your little Tinkerbell wannabe: it contains a tutu, wings, wand, and matching headband. The wand is glittery white, the wings a shimmering white and green, and the tutu layer upon layer of  light spring green. You'll want to pair it with a little white shirt or leotard and a pair of tights—the tutu, while cute to look at, is also a little scratchy.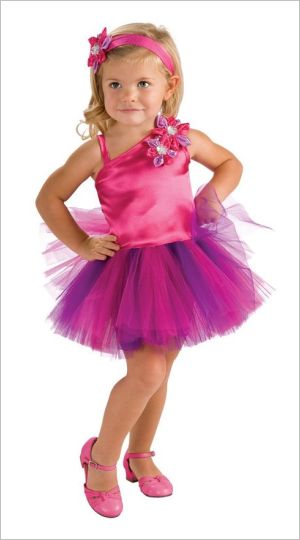 Rubie's Pink Fairy Tutu Costume
Are you ready for some more mix and matching? Rubie's Cute as Can Be Pink Fairy Tutu Costume is certainly cute, but it's just a little dress—if you want a wings and wand as well, you're on your own.  Buy a Fairy Pixie Wings and Wand Set and your little fairy will be ready to fly. As these wings are one size fit all, they may need some adjustment to go on your toddler, but it shouldn't be anything too hard.  They measure 15" by 12", so they shouldn't overwhelm her.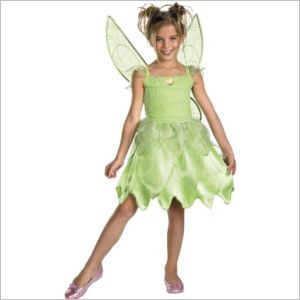 Disney Fairies Tink and the Fairy Rescue Classic Costume
For your three or four year old toddler—or a top-of-the-growth-curve two year old—Disney Fairies Tink and the Fairy Rescue Classic Costume is another nice option. This fairy costume is a green fairy dress with beautiful detachable Tinkerbell wings, made of polyester; and will turn your small fairy into a veritable Tinkerbell look-alike.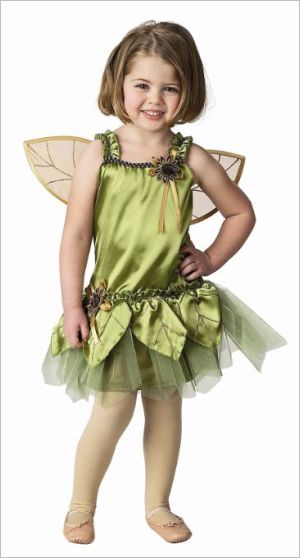 Get Real Gear Garden Fairy with Detachable Wings
Would you rather skip the slightly  tacky Disney tag-alongs, and make your daughter into a beautiful garden fairy with her own name and rights? Then Get Real Gear Garden Fairy with Detachable Wings may be exactly what you are looking for. This woodsytoddler  fairy costume is higher quality than many others; a forest green leafy dress with detachable fairy wings. The sizing on this costume tends to run small, so you may want to buy a size up from what your daughter normally wears. Since the skirt is short, leggings or tights may be in order. However it is worn, though, this will transform your little girl into a beautiful woodland fairy, and is comfortable and durable. 

What else do you need for your little fairy? If it's summertime, there's no more appropriate fairy head-dress than a home-made flower chain: find a place where  daisies or dandelions grow in abundance, and teach your little daughter how to link them up. Even if she can't quite manage the movements herself, she'll love wearing one you make. And, whatever happens, don't forget to take pictures!
Click here to return from Toddler Fairy Costume to Toddler Costumes

Click here to return from Toddler Fairy Costume to Home Page