Toddler Fold Out Bed


A toddler fold out bed is nice if you have very little space, and want your toddler to have a couch in the daytime that can be transformed into her bed at night; and also if you frequently have toddler overnight visitors and want a cozy place for them to sleep—a place that can 'be disappeared' in the morning.

One way of doing this is to get an inflatable bed or cot; but a fold out bed that becomes a mattress during the day has no extra 'storage footprint' and also tends to be a sturdier option.
A Toddler Fold Out Bed They Can Play on: Marshmallow Flip Sofas
If your child enjoys cartoon characters and you don't mind having them in large size on the furniture, the most popular toddler fold out bed series is the 2 in 1 Flip Open Sofa from Marshmallow Children's Furniture.  This is a toddler-sized foam sofa that flips open into a toddler-sized bed.  Completely made of foam, this couch is not sturdy enough to be a comfortable seat for an older child or adult, but is perfect for a little person.  The character-themed cover comes off for washing and washes well; it is a little hard  to wrestle back on after the wash, but with a little patience and arm power it will come together again.  This bed comes in several designs like: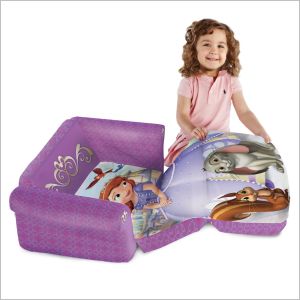 Disney Princess Sofia the First Fold Out Bed
• Disney Princess Sofia the First —a purple couch with scrollwork and Sofia's face gracing the center panel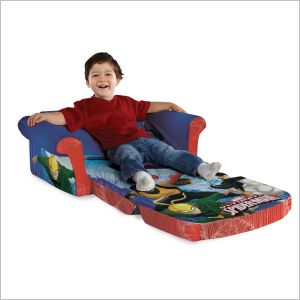 Spiderman Fold Out Bed
• Spiderman – this blue and red sofa will certainly add a very definite Spiderman presence to whatever place it happens to sit; no subtlety here. 
In Another Style…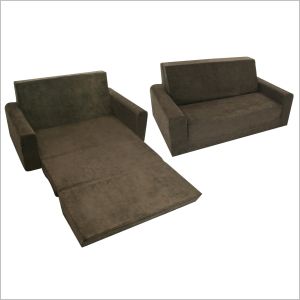 Newco Kids Sherpa Flip Sofa
If you count yourself among those parents who don't want cartoon figures all over the house, a nice fold out bed  for kids without a hint of Disney is the Newco Kids Sherpa Flip Sofa, which comes in chocolate, 'happy talk blue' (blue floral), 'happy talk pink' (pink floral), hot pink, ivory, and navy. This is also foam, and again it is toddler-sized. Like the Marshmallow sofas, it is perfect for your little boy or girl to relax on,  though not so ideal for sitting together to read stories.  The washable, removable cover is Sherpa fabric, so very soft. Downsides? Just two: the cover tends to gather lint, and the couch is rather expensive for the little piece of foam furniture it is. Still, it is a nice toddler couch, and may clash less with your existing furniture than a Marshmallow's Sofia Princess or Disney Cars sofa would, for instance. 

Click here to return from Toddler Fold Out Bed to Toddlers Furniture