Toddler Girls Dress Shoes


It's so fun to dress our little girls up in toddler girls dress shoes, frilly little dresses, and lots of lace and bows. If you enjoyed playing with dolls as a child, dressing up your live doll now is ten thousand times the pleasure. But, of course, she isn't really a doll. She's a little person with very individual person needs. And those little feet are not plastic feet which can be fit into anything and come out unscathed: they are delicate things that are still developing, and that need solid, ergonomic foot ware that will help, not hurt, that development. 
When you buy your daughter's first dress shoes….

In the old days the Chinese bound the feet of little girls to make them smaller and prettier. We don't do that now and here, but some of the  toddler girl dress shoes selections that parents make for their little daughters are very, very close to the 'bound feet' principle of foot ware. Here are two golden rules that any parent of a toddler girl should follow carefully:
Buy toddler girls dress shoes that fit. If your toddler has fat little feet, she needs fat little shoes, no matter how absolutely adorable those narrow glass slippers might be. The good news is there are lots of adorable dress shoes in 'fat foot' sizes for toddlers these days, and the internet can bring them to your doorstep—you just have to spend your time looking.
Don't ever, ever put your little girl in heels. At this age, she needs mobility, stability, and a solid basis for foot development; not any extra height or pretty tripping steps. 
And here's a third one—buy flexible. Every part of a toddler's shoe should be flexible, from the rubber sole to the sides and top. If you can't bend the shoe in your hand, it's not good foot-ware for your growing toddler.  This counts for pretty dress shoes as well as for your daughter's little sneakers or sandbox crocs. 
Toddler Girls Dress Shoes That Are Comfy and Ergonomic Too: Enter Pediped
My search for the best toddle girls dress shoes—shoes that looked pretty and stylish, but at the same time—and more importantly--- were comfortable and helped my daughter's foot development—took me to the Pediped website; and there I found the story of another mother who shared my vision. Pediped toddler dress shoes aren't the only toddler girl dress shoes that won't hurt your daughter's feet, but they are certainly well-engineered, beautiful shoes that make a good place to start.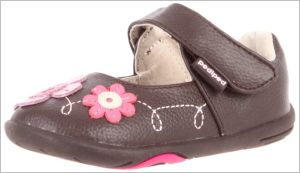 Grip-and-Go Sadie Mary Janes
I love the design of the Grip-and-Go Sadie Mary Janes. These are nothing like your average Mary Janes, with a solid, unflexible soul and stiff leather uppers. These shoes are as comfortable as nothing else, with a flexible rubber sole and soft leather that goes around your daughter's feet. And they're super cute, too.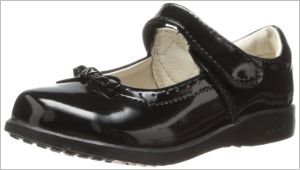 Pediped Flex Isabella Mary Jane
Want something more dressy—perhaps a black shoe? Have a look at the Pediped Flex Isabella Mary Jane —a shiny black shoe with a cute little bow that will look just perfect under those little dresses. This shoe offers an adjustable fit, and the sides—stiff as they look—are actually buttery soft. The sole is natural rubber and flexible, and wearing this shoe will actually help your daughter's foot develop properly.
Buy your daughter beautiful pretty toddler girls dress shoes that not only look absolutely right, but feel absolutely right too.  They might have a steeper pricetag, but her beautiful, happy smiles will more than reward you. 
Click here to return from Toddler Girls Dress Shoes to Toddler Footwear

Click here to return from Toddler Girls Dress Shoes to Home Page