Toddler Gym


Taking your toddler to a toddler gym is always lots of fun. Little people relish opportunities to get in motion in new and innovative ways, and that's what a play gym provides. Besides giving plenty of opportunities for exercise, gyms for toddlers also stimulate all of your little guy's senses, making him feel completely and totally alive. 

Going to a big toddler playplace or gym is fun. But if your child is what is a climber, what is commonly labeled as 'hyperactive', or has sensory issues, you just might want to have a toddler's gym in your own home. A large bonus room or basement is ideal for that kind of thing; if you have a large living room, you can do a lot there too.
Requirements for a toddler gym at home:
• Space
• Space
• And more space
Setting Up a Toddler Gym in Your Own Home


Toy Monster Monkey Bars Tower
Start by getting your little monkey a monkey bars tower; a place where he can climb safely so he doesn't need to be always climbing the bookcase or windowsills.  One very good option for that is the Toy Monster Monkey Bars Tower, available on Amazon. Here's a tower compact enough to use indoors, but sturdy enough to stay outdoors too, if that's the only place you've got space.  The weight limit on this thing is 150 pounds, so several toddlers can play on it happily together. It will take up a fair bit of room; the base, when set up, is 74" in diameter, and it is 47" high; but if a smaller climbing structure wouldn't be half as much fun.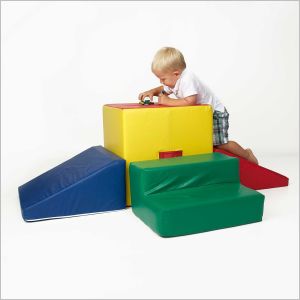 Foamnasium Gynasium
Once you've got that set up, you may be looking for more fun play structures to make your extra space into even more of a gym experience for your toddler. What about getting a set of enormous foam blocks for your child to climb onto? The Foamnasium Gynasium is a set much-loved by toddlers and their parents, and can be used from the time your child learns to crawl up until kindergarten or first grade. It consists of a large foam block; 20 inches by 20 inches by 20 inches, two large foam wedges and a toddler stair. These can be fit together in any number of conformations, and are light enough that your toddler can carry them around himself. At the same time they are stable enough that he can climb on them, slide off them, and use them to construct forts or playhouses.
Active Play 3 in 1 Gym Set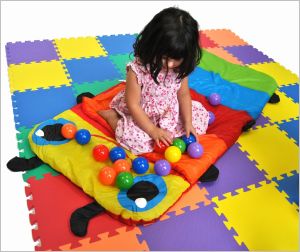 Non-Toxic 200 "Phthalate Free" Crush Proof Non-Recycled Quality Play Balls
You can finish of your toddler gym with a Active Play 3 in 1 Gym Set, providing your toddler with a slide, ball pit, and a target for throwing practice. Okay, the target may not be the coolest thing in the world, but the  slide is fun for toddlers and the ball pit is pretty neat, and if you buy extra balls to go with it—say 200 more to add to the 50 already there—your toddler will be sure to have lots of fun with it. 

Your toddler will need to be supervised when he's playing in his gym, but it's easy to supervise a child who is engaged and enjoying himself. No more bouncing off the walls on rainy afternoons! 

Click here to return from Toddler Gym to Outdoor Toys for Toddlers