Toddler Haircuts


Toddler haircuts—the first is great fun; a milestone even; taking off that first tiny bit of hair left over from when your little guy was a newborn and putting it in the baby book. The second, third, forth and twenty-fourth? Not quite so fun. Toddlers don't like to sit still, they don't like noisy clippers playing around their heads, and they are very hard to reason with when they've decided they don't want something. 
Helping Your Toddler Cope With Haircuts
How do you help your toddler learn that haircuts are okay? It's a long process, but it helps if you get off on the right foot. Start working on reconciling your child to the idea of haircuts before he's gone all-fire antagonistic.
Ways to help your toddler deal with haircuts:
• Explain what you're going to do beforehand
• Read picture books about haircuts during story time
• Do the haircut in front of a large mirror so your toddler can see what's going on
• Use a smooth, low-noise clipper (or, if you are just trimming, safe-looking scissors)
Toddler-Friendly Clippers for Toddler Haircuts
What hair clippers are toddler friendly? Probably not the set dad uses. A noisy, shiny metal set of clippers may be fine for a  very brave toddler soul, but the average child needs something a little gentler, a little quieter, and perhaps a little smoother on the head. 
Perhaps the favorite clipper set for parents trying for toddler haircuts at home is the Philips Norelco CC5059/60 Kids Hair Clipper. This is an upper-scale hair clipper made especially for little people or for children with sensory disorders that make them unable to handle louder noises or sharper combs; it's one of the best ways of getting your toddler's haircut done without him becoming traumatized. Exactly how many decibels this runs at is unlisted, but it claims to be 'ultra quiet'. The comb is plastic, with rounded edges that are meant to fit the contour of your child's head.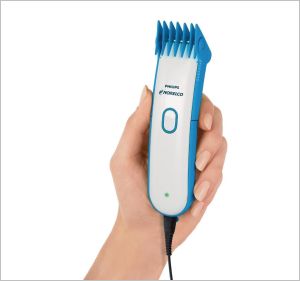 Philips Norelco CC5059/60 Kids Hair Clipper
One nice thing about this hair clipper is that you can use it without a cord; it contains a lithium ion battery, and when fully charged (this takes almost nine hours) you should be able to use it for all of forty five minutes. That's enough time for several toddler haircuts! If you forget to charge it, though, you can also use it plugged in. 
The Philips Norelco comes with two adjustable combs, which theoretically give you fifteen different length options: 1/8th to 1 ¾ inch. In practice, the larger comb doesn't work so well, or perhaps it just requires more skill. At any rate you should be able to choose between six or seven easy to do short hair styles.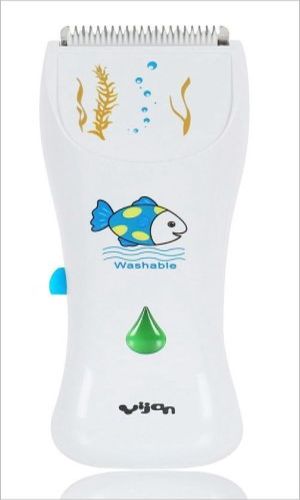 Yijan HK668S Waterproof Ultra Quiet Chargeable Professional Hair Clipper
A very comparable quiet clipper set is the Yijan HK668S Waterproof Ultra Quiet Chargeable Professional Hair Clipper for Babies and Children. This nifty little clipper is so quiet some parents report being able to use it on  a sleeping baby. It has fewer length options than the Philips Norelco, but how many different styles do you really plan on trying?  This clipper is waterproof, which means you can cut your child's hair in the shower, and contains a chargeable battery that allows you to go cordless.

Toddler haircuts don't need to be something frightening to your child: make them a fun adventure, in the same category as a walk to the park.