Toddler Kitty Cat Costume


It's that time of year again! If you're looking for a toddler kitty cat costume for Halloween, your little girl has probably decided that she must, absolutely must, be a kitty cat this Halloween.  It's a good choice; kitty cats are adorable, adroit, and fun, and dressing up like one will give your little one a chance to express her cuteness and gracefulness in a new and exciting way. 

So—time to make a toddler kitty cat costume! Or, if you're like me and would appreciate an easy way out, buy one on Amazon.  There's something ultra-convenient about being able to do your shopping online and get that kitty cat costume delivered straight to your door—if you've timed it correctly, in plenty of time for the big day!
Buying a Toddler Kitty Cat Costume Online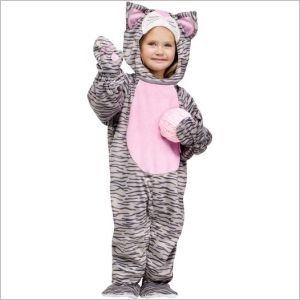 The Little Stripe Infant Kitten Costume
The Little Stripe Infant Kitten Costume is a sweet grey striped cat costume for your younger toddler. Nothing scary here; this fat little cat is as adorable as you can get.  It's a polyester jumpsuit with a hood, mittens, and boot covers; and the chunky size makes it perfect for layering in cold weather. The only thing to be aware of here is that the sizing is a bit small—3T to 4T is more like a 2T. 

Fun World Costume's Playful Kitty Costume
If a slim black cat is more your daughter's style than a chubby tabby is—or if she simply won't fit into the Little Stripe costume—another option is Fun World Costume's Playful Kitty Costume. This all-black jumpsuit costume is 95% polyester and 5% spandex, so expect it to be a bit tight fitting; still, the sizing is such that you may want to buy one size up. The headpiece is a simple headband with black ears rather than a hood; and there's a black tail attached, as well as faux fur on the collar, sleeves, and cuffs. This costume is very cute, but it's not terribly well made: if you plan to have your daughter wear it more than once you may need to do some small repairs. That said, it is a cute choice for Halloween.
Accessories for your Kitty Cat Costume
You've bought a toddler kitty cat costume—now what else do you need to make your daughter the most perfect kitty cat? Every cat needs a smudge nose and whiskers, so you'll to decide how to give her these—probably either with face paints or else a little plastic cat nose mask that goes over her nose.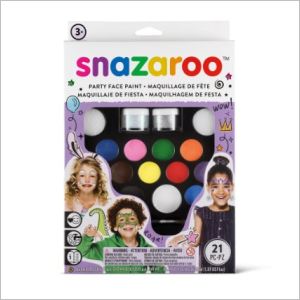 If you want to do face painting a good brand for face paints is Snazaroo —their paints are non toxic and easy to wash off when you're done with them, but they are also easy on, fast drying, and look good for a long time. This set will not only have you covered for your little daughter's cat face, but will set you and her off on a fun 'face painting' discovery journey as well---- she may be begging you for a new animal face every day!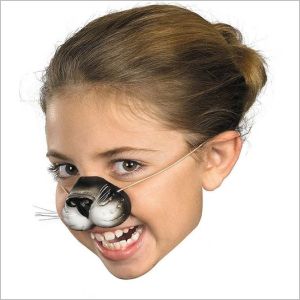 Would you rather not cover your daughter's face with black paint, and prefer a simple mask instead? This black nose will do the trick for you, and it includes some little whiskers your daughter might love. The one downside is that there are no breathing holes; she'll be breathing through her mouth while wearing this.  It's cute, though!
Enjoy the masquerade, and give the kitty some milk!
Click here to return from Toddler Kitty Cat Costume to Toddler Costumes

Click here to return from Toddler Kitty Cat Costume to Home Page