Toddler Lamb Costume


Time for a toddler lamb costume! Maybe your toddler is in a Christmas production or other drama, or maybe you've decided to send her out into the street as a little lamb for Halloween. Lambs are fun, skippy (like your toddler), and a toddler lamb can't help but be undeniably cute. 

Keys to a Winner Toddler Lamb Costume
The key to a winner lamb costume is lots of fluffy material, floppy ears, and a little round tail. The shape is less important: you can model your homemade toddler lamb costume on one of your toddler's loose fitting sleepers or jumpsuits, and that way you'll be certain the new lamb costume will fit to a T. 
When buying a lamb costume, you want to keep in mind three main things
• Comfort
• Fit
• Look
If your toddler isn't comfortable in the lamb costume you get her, she'll be fighting it the whole evening and no-one will have fun. Get a comfy costume that she doesn't mind wearing; or plan to use it only as an outer layer over comfy under clothes. 
Be sure the costume you buy will fit well; a little large is usually okay in a costume, but small tends to be unwearable.
And no-one needs to tell you to choose a good-looking lamb costume for kids; one which sets off your own adorable little lamb to advantage. Luckily for both of you, there are lots of cute lamb costumes available. 
The Best Lamb Costumes for Toddlers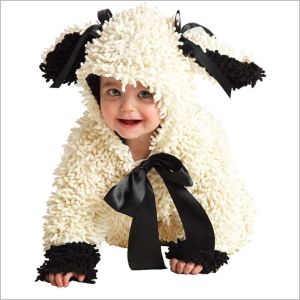 Woolly Lamb Deluxe Toddler Costume
For a little toddler, you might not be able to find anything with a higher cuteness factor than the Woolly Lamb Deluxe Toddler Costume for Infants and Toddlers. The largest size here is size 2T, so if your toddler is bigger than that you'll need to find something else. For a younger toddler, though, this is a fun, cute, and fluffy costume that will get the two of you hordes of compliments. White, with black ears, black paws, and a black bow at the neck, this fluffy lamb will pull at the heartstrings of anyone who sees it. The downside? As a jumpsuit with just one opening at the neck, it's not the easiest thing in the world to get on—it's certainly possible, but you may have to do some wrestling. The Velcro closure at the neck is also a little scratchy. Otherwise, this is a comfortable, practical costume.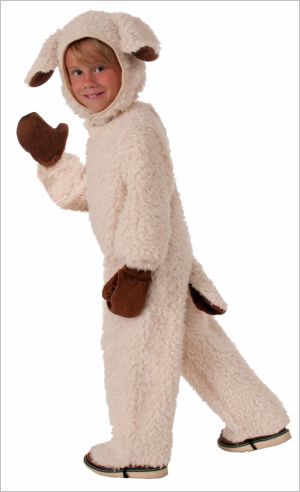 Forum Novelties Plush Cuddlee Lovable Lamb Costume
An older toddler should fit perfectly in Forum Novelties Plush Cuddlee Lovable Lamb Costume, another well-designed and fun lamb costume. This one might have a little more focus on realism and a little less on 'cute', but still rates pretty high for cuteness factor anyway. Climbing into this jumpsuit (which has attached shoe covers as well as mitts and a hood) your toddler becomes a white plush lamb with brown paws and brown inside the ears. The toddler size is meant to fit little people between two and four years old, and other parents.

Have fun getting your little lamb all ready for the meadow—you made a good costume choice!
Click here to return from Toddler Lamb Costume to Toddler Costumes