Toddler Leggings


For everyday wear, I prefer toddler leggings over tights. Leggings mean that my little girl's socks and leg coverings are separate; when she steps in the milk she just spilled on the floor I have her take off her socks, but leave the leggings on. Since there are no toes to get holes, leggings also last much longer than tights at my house. 

Types of Toddler Leggings
There are two basic types of leggings: those that are sometimes called footless tights or tights capris; made of the same material as tights but simply without feet, and those that are more tight pants, usually of a knit-type fabric. Either type of toddler leggings can be worn under dresses, and the second type can also be worn under long t-shirts, tunics, or sweaters. 
A Selection of Quality Leggings You Can Order Online
Gerber Graduate's Little Girls' Leggings
For a basic legging for everyday wear, under either a dress or t-shirt, Gerber Graduate's Little Girls' Leggings a nice option. These come in blue and white stripes, pink, or pink with white polka dots, and there is a little bow on each leg.  At 95% cotton, these leggings are comfy and breathable. The elastic waist makes it easy for your little girl to learn how to dress herself.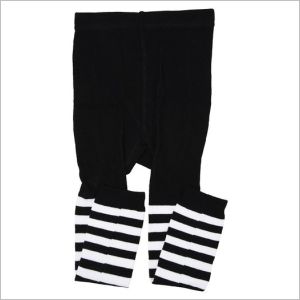 juDanzy's Footless Tights
juDanzy's Footless Tights are leggings that fit in the other category meant to be worn under a dress, these toddler leggings or footless tights will keep your daughter's little feet warm when it's cold out. The material, an 80% cotton blend, is thick enough for winter wear and sturdy enough for playground use. These come in a wide variety of colors, with fun stripes or polka dots,  so you can pick the shades that fit your child's wardrobe best.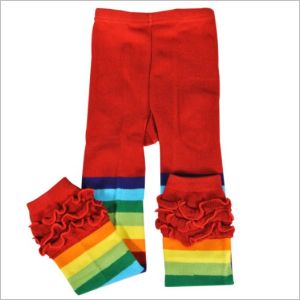 Wrapables Rainbow Ruffle Leggings
If you enjoy rainbow stripes on your little girl's legs as much as I do, another nice pair of leggings is the Wrapables Rainbow Ruffle Leggings. The upper part of these leggings are a bright cheery red; the lower section, all the colors of the rainbow, and there is a three layer red ruffle at the ankle.  These leggings are also a cotton spandex blend, and they are available in purple as well as in red.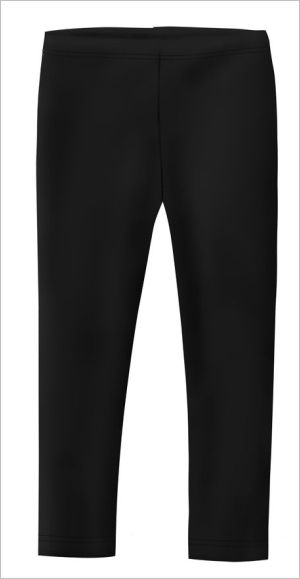 City Threads Little Girl's Leggings
For comfy, stretchy 100% cotton leggings, there's City Threads Little Girl's Leggings in fourteen solid colors (and a number of striped patterns in a cotton poly 75/25  blend). These made-in-the-USA leggings are comfortable, stylish, and can be worn either under dresses and skirts or just with long t-shirts for less formal wear. For a winning look and not to be matched comfort, try pairing these with a City Threads Little Girl's Super Soft 100% Cotton Short Sleeve Dress; a simple, comfortable knit dress that gives your daughter complete freedom of movement.  
While leggings are a comfortable, convenient way to clothe your little girl's legs, it's important you don't keep them in them all the time; and never have her wear any that are even the slightest bit tight or that leave red marks on her legs when she wears them. Circulation is especially important during the toddler years, as your little girl's legs and feet are busy growing and developing. 
Click here to return from Toddler Leggings to Toddler Girls Clothing