Toddler Mermaid Costume


You may find yourself looking for a toddler mermaid costume if The Little Mermaid is the end-all meet-all of movies as far as your little girl is concerned.  The idea of being half-fish, half-human is innately appealing to little people, and that Ariel was pretty doesn't dampen the enthusiasm.  To be a mermaid may symbolize being completely free, utterly graceful, and breathtakingly beautiful to your little daughter; and whatever you think of the creature itself, those are all good things. 

Making a Toddler Mermaid Costume
If sewing is your thing you should be able to make a mermaid tail at home quite easily. Do it in a glittery fabric that is both 'fishy' and becoming to your little girl. You'll want to have a fairly slender, fishy form, ending near the feet in a fish tail that puffs out. Take a plain headband and glue on some barnacles, silk flowers, and perhaps a little imitation seaweed, and your daughter will be good to go.
Buying a Mermaid Costume for Your Toddler
We're not all accomplished seamstresses, and that is why there are costume stores and outlets where we can find almost any fun costume our children may want. Toddler mermaid costumes are not an exception, and a good place to shop for yours is at Amazon. Here we'll highlight two of the top-rated, highest quality toddler mermaid costumes available.
Melissa & Doug Mermaid Role Play Set
First, there's the Melissa & Doug Mermaid Role Play Set,  a fishy costume meant to be used for more than just a one-on, one-off occasion like Halloween trick-or-treating. Although it's called a 'play set', it is actually just the costume and headpiece, but it's a nice, quality costume meant to give your child lots of playtime fun.  The material used is satisfyingly glittery, and the tail is nicely flared.  The headpiece is hairband accented with a seashell. This costume is not meant to be thrown in the washer, but you can handwash it with cold water when it gets dirty. The manufacturer's sizing is 3-6, but it is more likely to fit little girls who wear 2T-4T regularly.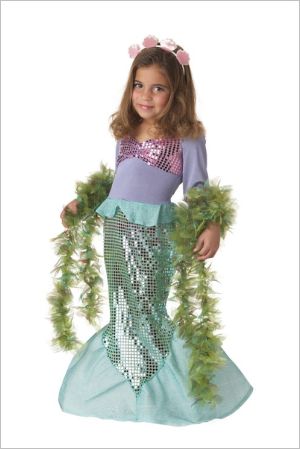 California Costume's Lil' Mermaid Girl's Costume
Another option—more of a occasion-costume than something that will stand up to everyday dress-up—is California Costume's Lil' Mermaid Girl's Costume, a pink and green glittering play dress that comes with a cockle-shell headband. This is longer-styled than the Melissa and Doug costume, so if you get a good fit the tail fins should be almost covering your daughter's feet. The sizing tends to run large.  This isn't a super-high quality, super-high quality costume; the sequins are glued on, and you can expect some to fall off as the costume is used; the material is also very thin and should be worn with leggings or pants. But it's a pretty costume for that special event that your toddler wants to be a mermaid for, and, unlike many others, it is a costume that she'll be able to move around in; although it has a slender form, the stretchy material allows plenty of movement.
Have fun shopping for your little girl, and may she have even more fun dressing up!
Click here to return from Toddler Mermaid Costume to Toddler Costumes

Click here to return from Toddler Mermaid Costume to Home Page