Toddler Monkey Costume


It's time to dress up, and--- he wants to be a monkey! A toddler monkey costume may not be something you know how to sew, but no worries: you can order a super-cute monkey costume for kids online and get it delivered to your doorstep in time for the big event.  The keys are to find something that fits your child; that suits his build and character, and that will work with the weather you plan to wear it in. That doesn't mean you need something with the thickness of a parka for Minnesota trick and treating, though: all experienced North country parents have learned the secret of layering. Just make sure the suit you buy is amenable to layering, and that it'll be loose enough on your child to allow for that extra sweater underneath.

Buying a Toddler Monkey Costume Online
What are the best monkey costumes available on Amazon? It'll depend on your taste and your child's size, but here are some recommendations to give you a start:

For your cute one year old monkey, a Sock Monkey Costume may be just about perfect. This outfit is sized as 12-18 months, and is made with a quality and attention to detail you don't see on many costumes nowadays. The little hat has a monkey face; the monkey body is a full-sized bodysuit, and there are boot covers to hide your toddler's shoes and a long tail to complete the image. Since this suit is made for the youngest of toddlers, there are even snap closures at the back to make diaper changing as easy as it can get.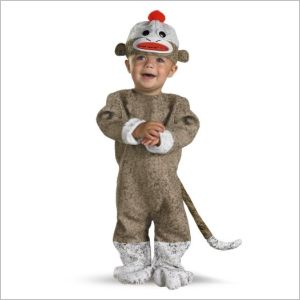 Sock Monkey Costume
For an older toddler, the Toddler Monkey See Monkey Doo Toddler Monkey Costume is a very fun option. This is listed as size 2-4T, but  ascostume sizes tends to run a bit small you shouldn't plan this for your tall four year old.  Your toddler will be transformed into a handsome brown monkey, with a long curly tail, a banana upended on his head, and a padded belly. This costume includes the headpiece, bodysuit, and shoe covers. If you're trick or treating on a cold night, do plan to layer, as the fabric is fairly thin. 

Curious George Costume
But maybe your toddler doesn't want to be some generic monkey, he wants to be Curious George. If that's the case, you can get him the official Curious George Costume; a simple brown monkey costume complete with Curious George's ever-curious face on the cap.  The bodysuit, headpiece, an overshoes are all attached, so you won't have to worry about your toddler losing anything.  
If Dad is going trick or treating—or mom doesn't mind being Man for one evening—the obvious companion costume is a bright yellow Man in the Yellow Hat, available from the same manufacturer. This costume includes a hat, a shirt, pants, and attached boot tops, as well as the belt and tie that go with them. It's not the best quality costume – the material is super-thin and the hat has a squashy foam band-- but it certainly will help you put on the yellow effect with a minimum of effort and sewing. 
Have fun dressing up your monkey in his toddler monkey costumeand sending him off candy-stealing, and make sure you get lots of pictures!
Click here to return from Toddler Monkey Costume to Home Page