Toddler Pirate Costume


Is a toddler pirate costume the outfit of choice in your house? Well, who runs around with one wooden leg, a patch over one eye, and a rakish black hat? It could be One Eyed Jack, or it could be a certain toddler would-be look alike. 

Making A Toddler Pirate Costume at Home
A pirate costume for toddlers is fun to improvise. Buy a quantity of thick black fat; cut a square of this for an eyepatch, and sew an elastic band to fit it over your child's eye. The hat can be shaped easily from the felt, and then sewn; or for a different style simply get a red bandana and tie it over your child's head.  For a mustache, tape some black yarn over a toddler-sized mustache piece of cardboard and attach that at the two ends with some more elastic (preferably, a thinner, almost invisible kind.) Find some slightly extravagant, garish dress up clothes at a thrift store, or make your own pirate blouse, jacket, and old-fashioned trousers.  Make a scimitar out of heavy cardboard, and cover it with foil. A wooden leg may be hard to do, but your toddler's imagination will fill in what is wanting. 
The Easy Way Out: Buying a Toddler Pirate Costume Online
We're not all super-crafty, and we don't all have lots of time to play around with fabric, string, and other notions. That's why online shopping can be a lifesaver. A pirate outifit is easy to order from Amazon, and you can get your little boy (or girl) rigged out in some pretty cool pirate gear without even having to go out to go shopping. 
Ahoy Matey Boy's Costume
• For instance, have a look at the Ahoy Matey Boy's Costume: a bold red and black costume that will make your toddler feel like he is really the latest thing in pirate fashion. A shirt with a vest, pants, a pirate belt, and a bandana complete this costume; if you want other details like a sword or eyepatch you'll have to add them in yourself. This toddler pirate costume is made of 100% polyester, and can be machine washed if you put it in cold water on a delicate cycle, but the material is very thin—perfect for hot summers, perhaps; if your toddler is to wear it on a cold October day, you will want to make sure you order large enough that you can do some serious layering.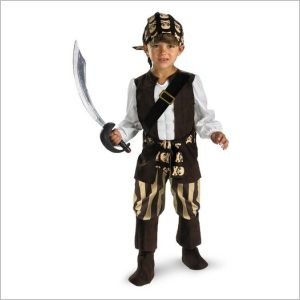 Disguise Costume's Rogue Pirate Costume
• A black-and-white toddler pirate outfit option is Disguise Costume's Rogue Pirate Costume,  a smart looking pirate jumpsuit with a skullcap bandana and shoe covers for a 'pirate boot' effect.  It's comfortable enough your toddler just might want to wear every single day, so if you're buying it for a specific masquerade or Halloween party and want it to still look new for the occasion, you may want to hide it carefully till the big day. Again, add in a sword to enable your toddler to fit some exciting sea battles. 
California Costume's Precious Lil' Pirate Girl's Costume
• Your little girl pirate can be dressed in the same pirate costume any little boy would wear, or you can get her something that is both cute and dashing: California Costume's Precious Lil' Pirate Girl's Costume, despite the cheesy name, is a fun outfit for a pirate little girl. The costume comes with a pirate bandana, a black pirate dress, striped leggings and boot covers.  The costume is fairly good quality, but you'll have to handwash it in cold water; it doesn't go in the machine. It is 100% polyester. 

Have fun watching your little guy or girl buccaneer through the house!
Click here to return from Toddler Pirate Costume to Toddler Costumes

Click here to return from Toddler Pirate Costume to Home Page