Toddler Play Yard


A toddler play yard is your best friend when your toddler is into everything and you just want him contained in a little safe space. It's not the end-all-meet-all. You'll still have to teach your toddler to know his own limits and play where he's told to, but especially for a younger toddler, it is very nice sometimes to be able to just dump him in the yard and know that, for a while anyway, he can play contained and safe. 

Don't leave your child unsupervised even in a play yard: accidents happen, and little people don't have any way of extricating themselves from problems. When you're around though, a simple play yard can bring down your stress levels from 1789 to around—25. Especially if you have a cup of home brewed coffee and an almond biscotti to enjoy as you watch him from a distance. 
Where to Buy a Toddler Play Yard
You can buy a play yard at a general store like WalMart, at your baby supply store, or—most conveniently of all—from Amazon. If you're buying from Amazon you need never leave your home; place an order from your own laptop or computer and your play yard will be delivered right to your home address. It's a lifesaver for toddler moms and dads, for non-virtual shopping expeditions with a toddler in tow can be something less than fun. 
The key to successful online shopping is to read the reviews carefully,  so you hear from other parents who have bought the same item you're looking at and can learn from their experience. There is certainly plenty of junk available online, but there is high quality child furniture too.
Choosing Your Toddler Play Yard
What are some of your best options in toddler play-yards? Do you want a light-weight basic play-yard, or is thick, sturdy plastic more your style? Both have downsides and benefits. Lightweight means you can pack it up and move it elsewhere with no back strain; it also means baby may be able to push his walls around and move his play area with him wherever he wants to go. Sturdy means it's likelier to stay where you place it, but when the sun comes out and you want baby playing by you in the yard while you garden, you may be giving your back quite the workout.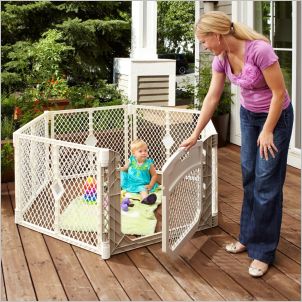 North States Industries Superyard Play Yard
If you'd like something light-weight; easy to take indoors and outdoors and as thin as possible a barrier between your child and the great big world around him, North States Industries Superyard Play Yard may be for you.  This toddler play yard is enclosed by high quality You have a six panel and an eight panel option; since toddlers like their space, I'd recommend the eight panel unless it simply doesn't fit in your house. The pieces are each 26 inches high, and with eight panels your toddler gets a 34.5 square foot enclosed playspace. The lightweight panels are easy to fold and carry inside; the total weight comes to less than 30 pounds.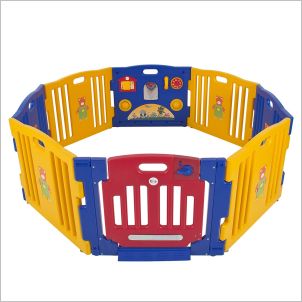 Best Choice Products Baby Playpen
If thick n' sturdy is more your thing the Best Choice Products Baby Playpen 8 Panel Safety Play Yard  is one to consider.  Made of high-quality, sturdy plastic, this play yard is ideal for children up to age four, and makes a fun, colorful environment for play. Some of the panels include fun activities, such as a telephone and ballspinner, and there is also a gate with a safety lock so you can easily get in and out.  The panel height is 23. 5 inches, and though the area enclosed will differ depending on the configuration you choose, a simple square setup encloses slightly more than 25 square feet. 
Make a safe enclosed space for your toddler, and put the coffee pot on!
Click here to return from Toddler Play Yard to Toddler Furniture