Toddler Rabbit Costume


A toddler rabbit costume is a wonderful way to dress your toddler up for Easter—who needs frilly dresses, anyway? – and it can also double as a Halloween costume. Long, floppy ears; a soft furry body, and your toddler's own bright eyes peeking out of the face—what better costume idea could you come up with? 

Toddler Rabbit Costume You Can Order Online
For a young toddler, the InCharacter Infant Bunny Costume is a pretty nice set. This rabbit costume will turn your toddler into a little gray bunny with the biggest, floppiest ears and a nice fluffy tail.  This costume is very appropriate for either little boys or little girls; there's nothing overly cutesy or pink about it.  It's comfortable and easy to put on; there are even snaps at the crotch in case your little one is still in diapers. The outfit consists of a hood/hat, a bodysuit, and booties; you'll need to take the booties off if you go out trick and treating and your toddler walks.  There's also a little plush carrot your child can hold as an extra prop. The downside? This costume only comes in baby sizes up to 24 months; and some parents report it running a little small, so you will have to look elsewhere if your toddler is over two or is on the higher side of the percentile in weight and height.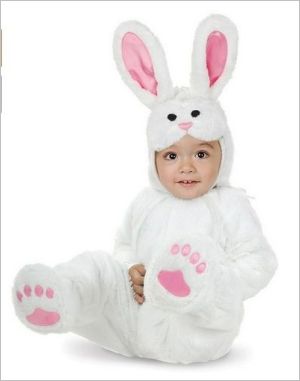 Little Bunny Kids Rabbit Costume
For pink-and-white bunny cuteness, there's the Little Bunny Kids Toddler Rabbit Costume,  and this one comes in a wide range of sizes: 6 months up through the toddler sizes and on to Kids S (6-8). A jumpsuit, hood, and booties, this set is made of some super-soft material: unfortunately, it's not machine washable and tends to shed a bit, so while perfect for a photo shoot or Halloween night (or Easter morning), it's not the kind of thing that will have a long life in the playroom.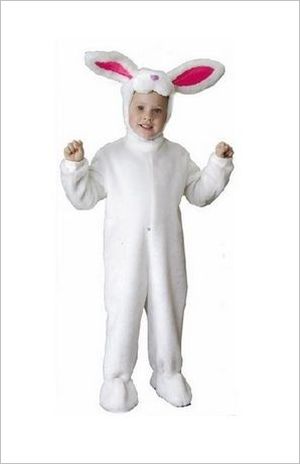 Wilton's Toddler Plush White Rabbit Costume
You can also dress your 4T-er in Wilton's Toddler Plush White Rabbit: a warm plush jumpsuit with a headpiece that includes the bunny ears. The plush here is really serious plush, which makes this a good costume for chilly October nights. It's also pretty cute. Downsides: this rabbit costume has no lining, so don't expect to have your toddler put it on over his bare skin—it would be far too scratchy. There isn't a tail, either, which you may not mind; if that is important to you, you'll have to find some way to improvise. 
Face paints for Your Toddler's Rabbit Face
A bunny without whiskers is a rather doubtful bunny, even if she boasts long floppy ears, a fluffy body, and a little nub of a cotton-tail. The good thing is—it's not hard to provide your toddler with her own rabbit whiskers and any other rabbit features you feel up to coming through with.
Black face paint is essential here— you could use the black from your child's washable markers, but it would take some scrubbing to get it off after—and what toddler likes having his face scrubbed, hard? Not mine.  So buy the face paint. It'll be fun to use afterward, anyway: just think how much fun the toddler will have painting you!
Click here to return from Toddler Rabbit Costume to Toddler Costumes

Click here to return from Toddler Rabbit Costume to Home Page