Toddler Rain Boots


Splish splash splish splash! See those toddler rain boots dancing in the rain! Rainstorms and toddlers go together like ducks in a pond—at least, if the toddlers are properly attired. That means, at minimum, rain boots and a waterproof raincoat. To get your toddler ready for the winter (or summer rain) follow these steps...


Getting Ready for the Rain: A Pair of Toddler Rain Boots
Want to get your toddler ready for the rain, without venturing out into the inhospitable elements yourselves? Order online, and the postman will be the only one who has to do any lugging around. 
Okiwear's Rubber Rainboots
If you just want a pair of traditional rubber boots that will keep the little one's feet toasty and dry you can't go far wrong with Okiwear's Rubber Rainboot: a five star player that is all that rubber boots are supposed to be. The all-rubber exterior seals the water out nicely, and these shoes are cut nice and high to keep out any stray splashes. Since rainy days are sometimes slippery days, these boots have good traction to eliminate slips and falls.
Stephen Joseph Little Girls Rain Boots
Prefer something a little more—I don't know—cute and classy? Stephen Joseph's Toddler Rain Boots may just fit the bill. Stephen Joseph Little Girls Rain Boots are available in lots of pretty girly colors with pretty flower, bug, butterfly, or owl applique rubber. Stephen Joseph's Boys Rain Boots are a bright, cheerful blue print with dino or monkey rubber applique. Both the boys and girls shoes are 100% rubber and sturdy enough to last through lots of wet and wild outdoor play.  They are easy to slip on and off, and can be hand washed as needed. As an extra bonus, you can buy matching raincoats and umbrellas.  

Raintime is Playtime
Once you've got your toddlers feet safely encased in toddler rain boots the two of you can go out and explore the bright clean freshness of a world after a rain. No matter where those feet go, they'll stay dry. Explore puddles together, and see how many earth worms you can count. Shake the branch of a tree out over your heads and laugh as the sparkly water comes down.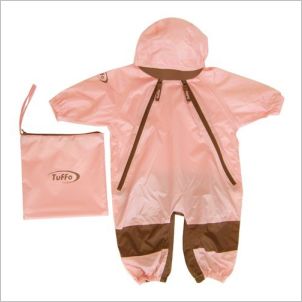 Tuffo's Muddy Buddy Coverall
If you want to do serious wet-day playing—after the rain and even when it is coming full force—you'll want to invest in a rainsuit like Tuffo's Muddy Buddy Coverall. This coverall is not nearly as cute or chic looking as that cute butterfly or dino raincoat you bought your child, but while the raincoat is good for expeditions to the store, church, or even school, where you stay on the sidewalks and walk straight, the Muddy Buddy is meant to be played in. Like, really played in. Slip this on over your child's clothes, put on the rubber boots, and go out when it's pouring buckets—nothing will get in. Or let him enjoy the mud after a storm. Not every toddler thinks puddles are for jumping over; some toddlers feel they are for sitting in. And if your toddler is wearing a Muddy Buddy, that's perfectly all right. 
Let every rainstorm be a fun experience for your child; there's no reason to sit glumly indoors staring at the drops on the glass. 
Click here to return from Toddler Rain Boots to Toddler Winter Clothes