Toddler Recipe


A toddler recipe book isn't an absolute necessity—you can make the same recipes for your toddler that you make for the rest of your family, or you can imagine up your own simple recipes—but it can certainly be a treasure trove for the inspiration-drained mom who just wants to feed her child meals that are nutritious, tasty, and good. 
Choosing a Toddler Recipe Book
When you're looking for a toddler recipe book you want to choose something that is doable for you, now, at this stage in your life. Some books are full of super-easy recipes, which are perfect for those who are mothering and working full time but maybe a little boring for those who spend all day home with their children, have plenty of time and resources and would like to feed the toddler something really appetizing and fun. 

A Selection of Recipe Books for Toddlers and Babies
What are the best-rated recipe books fro kids available on Amazon? Here is the run down: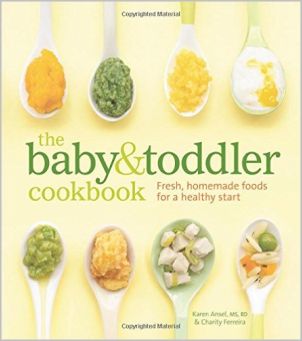 The Baby and Toddler Cookbook by Karen Anselis
The Baby and Toddler Cookbook: Fresh, Homemade Foods for a Healthy Start by Karen Anselis, at the time of this writing, the #1 bestseller in the  baby food cooking category at Amazon. It is a beautifully printed, well written book with lots of recipes for babies and toddlers, children from six months up to three years. Since it's not just toddler recipes but also recipes for babies, there are lots of semi-boring purees and other 'little baby foods', but there are also many recipes your toddler will love to have you use. It's all healthy, and it's all tasty, and the photographs are beautiful and inspirational. They'll make your mouth water even as you flip through the pages, and get you all excited about making your toddler food that he will love wolfing down!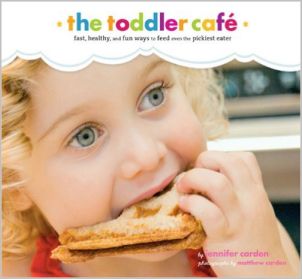 Toddler Café by Jennifer and Matthew Carden
Toddler Café by Jennifer and Matthew Carden is a different sort of cookbook: here the focus is on fun, imaginative foods that will get even a picky toddler eating well. Many of these recipes are fun twists on old favorites, and they're all fairly easy to make—when the recipe is a bit more involved, there is ample warning and thorough directions. The downside of this book is that the recipes aren't quite so healthy as those in Ansel's Baby and Toddler Cookbook, and there are lots of sweets. It may not be ideal for a primary toddler cookbook, but this is certainly a fun addition to your recipe book library and will help you think of new ways of cooking toddler goodness.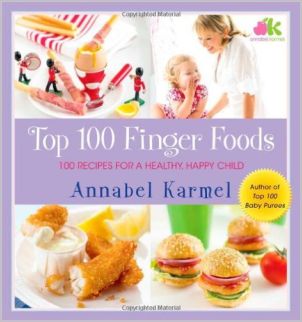 Top 100 Finger Foods: 100 Recipes for a Healthy, Happy Child by Annabel Karmel
Top 100 Finger Foods: 100 Recipes for a Healthy, Happy Child is not billed as a cookbook just for toddlers, and that's because the recipes are so good that the whole family can and will enjoy them. Since finger foods are ideal for toddlers, every recipe in this book is a delicious toddler meal. Some of the recipes are a bit intricate and call for fancy ingredients, but the directions are good and there are plenty of simpler recipes as well. Photography is also beautiful: all in all, this is a wonderful go-to resource for any parent of toddlers or any cook who enjoys making tasty finger foods. 
Click here to return from Toddler Recipe to Toddler and the Kitchen