Toddler Recipes


Mothers of toddlers are always looking for easy to make, easy to eat toddler recipes. Toddler nutrition is one of the keystones of our toddler's health, and it's important to make sure that the meals we are making our little people give them the nutrition they need. 

When you look for recipes for kids, then, what exactly are you looking for? Recipes that are easy to make—no mother of toddlers has lots of free time—but at the same time tasty, easy for toddlers to eat, and delicious.
Young toddlers often have a hard time eating meals that include little moisture—they may get excited over a bowl of  grown up food like pasta salad or fried rice, but when you do the clean up after the meal you are likely to find that very little has ended up in your toddler's stomach. They just don't have the saliva reserves necessary to swallow very much dry food at any given time. These toddler recipes are designed to be easy to eat for even the most finicky toddler, and they're easy to make and healthy to boot.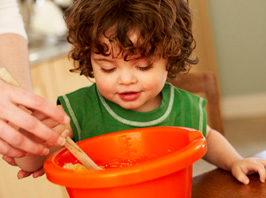 Easy-to-Eat Healthy Toddler Recipes
Toddler Potato Beef Soup
Ingredients:
• Small piece of beef, sliced into thin pieces (if you slice it while its frozen, you'll find it easy to slice very thin.)
• 1 tsp olive oil or other vegetable oil 
• 1 potato
• 3 collard leaves, diced small
• 4 spaghetti noodles
• salt to taste (toddlers shouldn't have much salt, so make it minimal)
Fry the beef in the oil till it is a nice golden brown; add the potatoes, and fry a minute or so longer. Add water, and boil till the potatoes are almost soft; then add the spaghetti noodles, broken up into pieces, and the collard greens. When the noodles are done take off the stove, cool to toddler-temperature, and serve. 
Toddler Vegetable Rice Soup
Your toddler may not be very fond of vegetables, but that doesn't mean you shouldn't give them to him. In fact, constant positive exposure to vegetables will do more to help him (eventually) grow to like them than anything else. 
• 2 cups chicken broth
• ½ cup frozen vegetables (broccoli, carrots, green beans, peas)
• 3 tablespoons rice
• salt to taste (remember, toddlers shouldn't have much salt!)
Put the chicken broth in your little soup pan, and add the rice. When the rice is about halfway cooked (10 minutes), add the frozen vegetbles. Cook ten minutes more. Add salt to taste, and serve up to your toddler. 
Toddler Oatmeal Porridge
This is a yummy breakfast, especially good for those cold winter mornings. 
Ingredients:
• 1 apple
• ½ cup rolled oats
• 1 cup water
• 1 pinch salt
• Milk 
Core and cut the apple into small pieces, and put in the salted water. Boil five minutes, then add the rolled oats. Cook, stirring frequently, till it has reached your desired consistency. If your toddler likes thick oatmeal porridge you may be able to do with a  little less water; if he wants it runny, you can always add a little more. Serve with milk. 
There you have it: three delicious toddler recipes your little person will love. I also have delicious toddler finger food and snack recipes on this website, so if you are looking for something along those lines, keep browsing!
Click here to return from Toddler Recipes to Toddler and the Kitchen