Toddler Rocking Chair


Is the toddler always in your favorite chair? Buy him his own toddler rocking chair, and the problem might just disappear. Little people love furniture that just fits them—there's something a thousand times more comfortable about curling up in a plush rocker that just fits you versus sliding about on the big one that makes you into a midget. 

What kind of rocker do you want for your child? Your main options are simple traditional wooden rocking chairs or the more modern 'armchair rocker'. Which you prefer will depend both on your taste in furniture, your toddler's idea of a fun place to sit, and and how the two mesh.
Two Choices for Toddler Rocking Chairs: Modern and Traditional
If you'd like a toddler rocking chair in the armchair variety, a big favorite is the Harmony Kids Standard Rocker, a cozy chair  with a soft micro fiber cover and sturdy rockers. This chair will fit your toddler perfectly, and if he makes a mess on it, it's easy to clean with soap and water.  Choose from a wide variety of fun colors and patterns: blue cotton, cow, pink polka dotted,  leopard, tan micro, zebra, green dot, chocolate, dark blue, hot pink cotton,  light blue, pink dot, and pony. There's sure to be something that fits your home décor.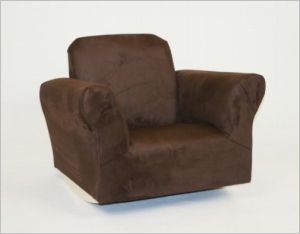 Harmony Kids Standard Rocker
For a beautiful piece of traditional furniture, consider Gift Mark Child's Colonial Rocking Chair, available in white, cherry, espresso, honey, and natural finishes. This beautiful hardwood chair is designed on classic Colonial lines and will add a touch of old-style hominess wherever it's put.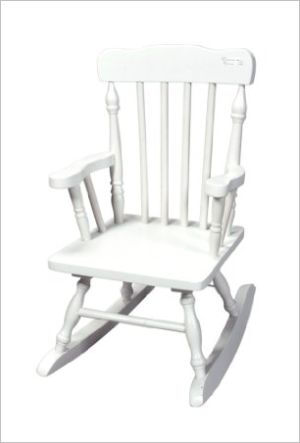 Gift Mark Child's Colonial Rocking Chair
Although the recommended age is 36 months and up, the seat height is only slightly more than ten inches, so the average two year old and some one year olds should be able to handle it with no problem. It's a chair they can grow with. 
Assembly is required for this kind of rocking chair, but nothing complicated—a  DIY-er should be able to manage it in only about five minutes; if you don't consider yourself handy, budget yourself a little more than that. 
Your Toddler and the Rocker
Does your toddler not know what to do with his toddler rocking chair? Toddlers learn by watching their elders, and if your little boy or girl never sees you relax, they'll never learn how to relax themselves. Our busy lives mean that we've got something to do all the time—whether it's making dinner, vacuuming, organizing the bathroom, or just checking Facebook and email on the computer.
If you'd like your toddler to enjoy 'quiet' downtimes, model them for him on a regular basis. Every child needs to see their mothers and fathers read. So make an effort. Choose a few books that are enjoyable for you, and plan to spend some time just sitting on the couch or in your own rocker reading,  relaxing and enjoying yourself. It won't be long before you see your toddler take a little stack of picture books to his own rocker too, and he'll be just as engrossed in them as he's noticed you are. 
Click here to return from Toddler Rocking Chair to Toddler Furniture

Click here to return from Toddler Rocking Chair to Home Page