Toddler Rocking Toys


Toddler rocking toys are ideal in playrooms where you want your little guy or girl to have a ride-on toy, but where there isn't all that much space to really cruise around.  He gets to enjoy a wide range of motion and the wind against his cheeks, but stays stationary the whole time.  It's the perfect ride-on for apartment dwellers and those of us living in little houses who don't have big back yards to send the toddler out to—or where the weather is so unpleasant, half the year, that the child can't be out much. 

Gone are the days when straight-backed wooden rocking horse was the only option in this arena. Now you have choices. Some of these include:
• Material: plastic, wood, or plush?
• Style: horse, mammoth, zebra, or still something else?
• Size: do you want something to fit your one year old, or something a five year old will enjoy?
Toddler Rocking Toys on Amazon
A comprehensive catalogue of toddler rocking toys would take far too much room, so here we'll just look at some of the absolute best when it comes to the rocking toy market: rocking toys that parents and children have tested and tried and which have made the mark.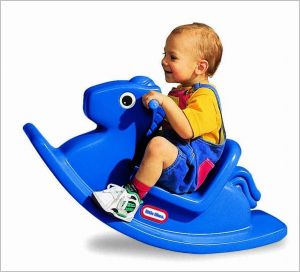 Little Tike's Classic Rocking Horse
If you like sturdy plastic for playroom furniture, Little Tike's classic Rocking Horse may be just up your aisle. This little rocking horse won't take up too much room anywhere, and is great fun to play on. Like many Little Tikes products, it is practically unbreakable: you can expect to be able to pass it on to little siblings, cousins, or friends in an almost-new condition when your child is done with it. The seat, hemmed in at front and back by the backrest and the horse's head, is designed to keep little people from falling out, and this rocking horse is very safe for little toddlers; it's a perfect gift for a one year old. Older, more vigorously rocking toddlers may be able to rock so hard it flips over, so if your toddler is in that group, you will have to make rules about no wild play!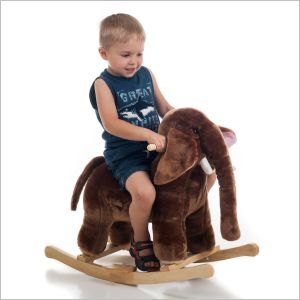 Happy Trails Plush Rocking Mo Mammoth
Want something very different? Toddler rocking toys can be more than just commonplace and too ordinary horses. Have your child ride a mammoth instead; can you get more exotic than that? Happy Trails Plush Rocking Mo Mammoth With Sounds is a very fun looking plush mammoth on a wooden rocking base. Okay, so it doesn't look too different than a standard brown elephant—but the sounds this thing emits when you pull its ear are really something else. Imagine what a blood-curdling yell sounds like when it comes through mammoth lungs, and you pretty much have it. Test this somewhere where your little guy can't see you first, so that you can decide whether you want to let him know about the sound effects. This mammoth does require batteries, but for the sound only, not the rocking motion.  It is designed for three and four year olds.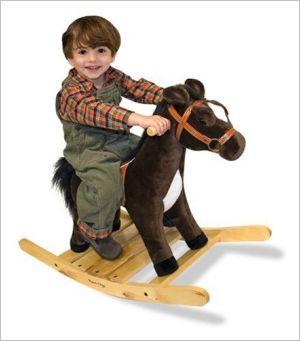 Melissa and Doug's Plush Rocking Horse
After Mo the Mammoth it's time for something a little tamer, and Melissa and Doug's Plush Rocking Horse meets the bill. Here's something that looks good enough it could be a decoration, but it's so fun to use your toddler will probably leave it idle seldom enough! The plush horse is realistically designed, even the mane and tail look like the genuine thing. Like Mo the Mammoth, this rocker also takes batteries and produces sounds, but here the noises you get when you pull the ears are a clop clop of the horse's feet or a real-life neigh. The wooden rocker base makes it easy for little toddlers to climb on and off by themselves, and this toddler can be used by one year olds up to five year olds, although older children may feel the lack of leg room. The official manufacturer's recommendations are 2 years old and up. 

Turn your playroom into a menagerie, and watch your child's eyes light up as she climbs up on her beast!
Click here to return from Toddler Rocking Toys to Ride On Toys for Toddlers