Toddler Sleeping Bag


You're going camping, and the toddler needs a toddler sleeping bag! Tucked in there, with the zip zipped nicely up the side, there's no way he'll catch cold from the mountain chill. 

Sleeping bags for kids are actually very useful for many more occasions than just camping trips: they'll give your child a cozy, personal place to sleep or nap during overnight trips, for naptimes when you're not at home, or even for some ultra-special under-the-stars nights in your own backyard.
When you're looking for a toddler sleeping bag, you're looking for something that is:
Warm 
Soft and Comfy
Easy to Pack
What are your best sleeping bags options?
Toddler Sleeping Bags: The Best Of the Lot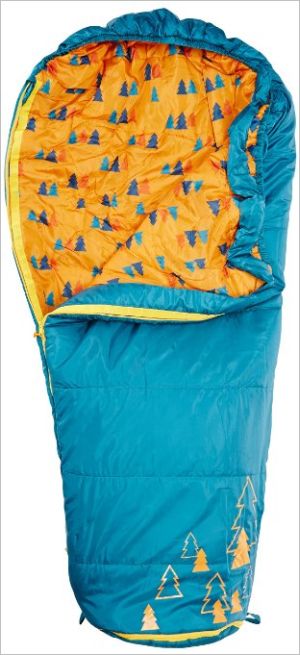 Kelty Woobie Sleeping Bag
If you're going tent camping with your toddler, a cozy sleeping bag that he'll fit nicely is the Kelty Woobie Sleeping Bag. This four foot bag is ideal for children from one to six years old; a one year old will have extra room in the tail end but will still be comfortable in it, and a six year old will be just about ready to burst the seams. It's a nicely fitted, mummy style bag, with cloud loft insulation, and it comes in two color options: pink or what is called viridian (blue).  When stuffed in the stuffed bag it's a compact 9x 15 inches, and weighs just 2 lb 4 oz, barely more than a kilo. 


Deuter Starlight EXP
If you want a closer fit to your toddler's size, try the Deuter Starlight EXP. Here is a sleeping bag that grows with your child. At the smallest setting, it's just three feet long, perfect for a one or two year old. When your toddler has a growth spurt and starts to look as if he's going to outgrow the bag, unzip the special zipper and you get another foot+ in extension space: 4 feet 3 inches is the final size of your bag. This bag also comes with a stuff sack for easy packing, and weighs only 1.65 lbs total, but, though it is lightweight, it still manages to be soft and warm.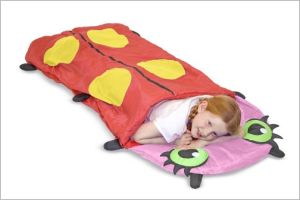 Melissa and Doug Sunny Patch Sleeping Bag
Maybe you're not into outdoor camping at all, and just want a sleeping bag for the toddler to camp out in on his bedroom floor, or take on overnight trips to grandma's. When warmth is not an issue it's nice to have a bit more space for your toddler to move around in: the insulation-friendly close-fitting designs of both the KeltyWoobie and Deuter Starlight may not be too-close-for-comfort to a toddler sleeping between four walls of a heated house. A rectangular, non-fitted toddler sleeping bag that's suitable for indoor use and pretty cute as well is the Melissa and Doug Sunny Patch Sleeping Bag: you choose between two fun, whimsical patterns: Mollie Ladybug or Augie Alligator. These sleeping bags are soft enough your toddler shouldn't mind sleeping on the floor, and fun enough he will think his bag is a new toy, and not a bed at all! This sleeping bag is just over five feet long; so longer than the two camping bags we reviewed, but still small enough to not overwhelm a toddler. It's machine washable, a big plus for a bag that's used often.  
Click here to return from Toddler Sleeping Bags to Toddlers Furniture

Click here to return from Toddler Sleeping Bags to Home Page