Toddler Suits


Are you shopping for toddler suits? Toddlers don't wear suits all that often, but when they do, it certainly makes for a super-cute effect! Whether it is for a wedding, a preschool graduation, or another kind of fancy dress party, shopping for suits can be lots of fun. 

But it's important to know in advance what the occasion calls for, as suits for toddlers are not made alike. A formal grey suit is suitable for most occasions, but in a wedding where the male contingent is all in ivory, you'll definitely want a lighter colored suit for a young ring bearer. 
Most formal suits come with five parts:
• A dress shirt
• A vest
• A jacket
• Dress pants
• A tie
For a unified effect the vest, jacket, and dress pants should almost always be the same color, fabric, and make. A white shirt is appropriate to most occasions, and the tie can be a touch of color, but should be carefully coordinated. 
Buying Toddler Suits Online
An online store like Amazon is a good place to buy toddler suits, with two caveats: know what you are buying, and read the reviews! If you buy an off-brand name with no reviews, you are setting yourself up for disappointment.
One good name in toddler suits is Lito, and Lito's 5 Piece Business Suit Pants Set is one of the highest rated suits for kids on Amazon, with 500 hundred rating—and counting. This set comes in every size you might want, from a tiny suit for a nine month old up to 20 husky. That includes all the toddler sizes, and more.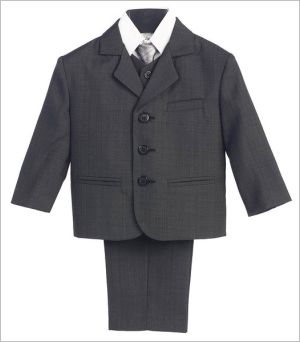 Lito's 5 Piece Business Suit Pants Set
You get the five traditional suit pieces in this set: a nice jacket,  a vest, dress pants,  a tie,  and a rather basic white dress shirt. The shirt is a polyester cotton blend, the suit full polyester. The jacket has three buttons, the vest four, and the vest has a adjustable strap at the back so that you can make it fit your little boy perfectly. The pants have pockets a button, and double pleats in the front; the back is elastic. There are beltloops, but you'll have to provide your own belt if that's the look you want for your toddler. This suit comes in a wide variety of colors: black, light grey, dark grey, white, brown, ivory, khaki, and navy blue. 
One warning: this suit tends to run a bit on the small size, so make sure you choose your toddler's suit appropriately.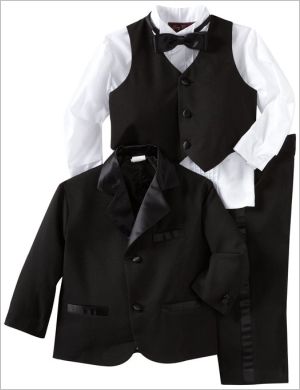 Joey Couture Little Boys Tuxedo
Another nice suit is the Joey Couture Little Boys Tuxedo.  This is a formal little tuxedo, but there is no tail on the coat. It comes with a white shirt, a black vest, black coat, black pants, and a little black bow tie. The entire suit is 100% polyester. The shirt is pleated, and has a notched collar. The pants have elastic on the back, a button on the front, and side stripes, and the little jacket has two buttons. This suit also runs quite small, so order at least one size up from what your toddler usually wears.
Two quality suits for a toddler: and the amazing thing is, buying both would still come out cheaper than renting a toddler tux in most places! It might take a little extra work to buy, but it certainly is worth it.