Toddler Swimsuits


Toddler swimsuits may not be a minor part of your little girl's wardrobe: if you live where it's hot out, your daughter could easily spend half of her waking hours dressed beach style. Children love water, and even if you have no pool and are far from the beach, a kiddie pool set up in the yard, patio or balcony is an option for most families. 

You want your toddler to be comfortable while playing in the water. If you're like most parents, you probably also want your toddler to look cute. Little people have a way of looking pretty well adorable when they're half in and half out of the water, wet hair, glistening eyes—and, of course, the cute toddler swimsuits.
But your toddler's swimsuit should also be easy on and easy off, because bathroom breaks are sometimes urgent or, if she's wearing a swim diaper, you don't want to do any wrestling when it's time for a diaper change. Finally, it's important it fits her right—no tight neck bands, no constricted thighs.
So here are our criteria for toddler swimsuits:
Comfortable
Quick Drying
Cute
A Good Fit
The Best in Every Way: Quality Toddler Swimsuits

My search for quality swimsuits for tots led me to a wonderful two-piece that completely outdid my expectations.  Every point was a yes: comfortable, quick drying, cute, and, if I bought the right size, a nice fit. What was more, it was cuter on her than any swimsuit I'd seen, and it protected her from the sun into the bargain. No more looking, and no more fighting our way into awkward one pieces. Arms in, one zip,  a quick pull up, and dressing for the pool is over.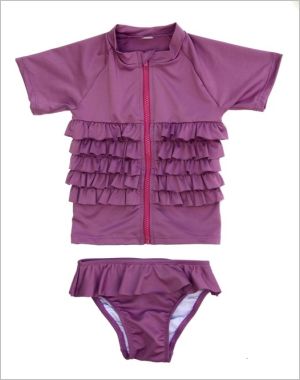 SwimZip UV Sun Protective Rash Guard Swimsuit Set
Ruffle Me Pretty, a UV Sun Protective Rash Guard Swimsuit Set by SwimZip Swimwear, is a two piece swimsuit consisting of a short sleeved top—with lots of ruffles, and a zipper down the front—and ruffled swim bottoms. The material, a spandex polyester blend, is UPF 50+, so it'll do a good job protecting your little daughter from the hot summer sun, and it dries nice and fast. The zipper has a no-pinch flap, and the seams are sewn flat to prevent chaffing.
It's the kind of suit you can feel comfortable letting your daughter run about in for extended periods—even if she's not in the pool; running through the sprinklers with the neighbor children, for instance. This style comes in three colors, pink, green, or purple. But if Ruffle Me Pretty is not your thing, you can get the same protective, comfy, easy to wear swimsuit in a variety of styles. There's: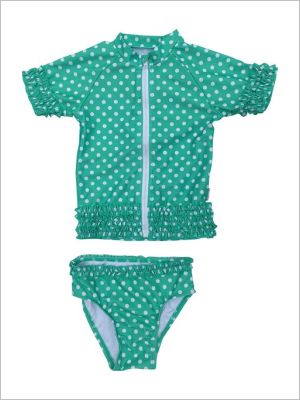 Sassy Surfer:  A fun polka-dot suit which comes in blue, pink, purple, or black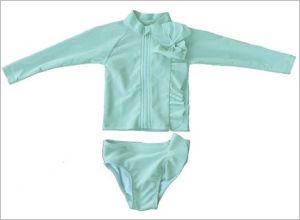 Mint Chip: A lovely long-sleeved suit, for extra sun protection, and with a bow on the shoulder: this one comes in red, purple, and blue.
Click here to return from Toddler Swimsuits to Toddler Girls Clothing