Toddler Swing Set


There's a reason you are thinking about a toddler swing set. A simple, easy to set up playground set can transform the boring backyard into an exciting playground for your toddler, and you can let your little one get his or her 'swing fix' in without having to go all the way to the local park.

What are your options when it comes to swing sets for children? You can order either an all-in-one playground setup with steps, a slide, and an attached swing—or two—or you can just get a simple swing to hang on the porch, on a sturdy tree branch, or on a wooden swing frame. 
Toddler Swing Sets: The Playground Approach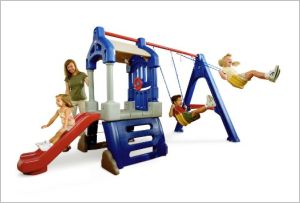 Little Tikes Clubhouse Swing Set
The Little Tikes Clubhouse Swing Set is extensive enough that several children can be having fun, all at the same time, without getting in each others way.  One might be climbing the wall or challenging rope ladder, another using the fun steering wheel or sliding down the large slide, and still there are comfy toddler swings for another two little people. These swings are low enough to the ground to be generally safe for toddlers, but you can also put in a baby/toddler swing with a three or five point harness if that makes you feel safer about swinging your toddler. This swing set will fit your child all the way from about one and a half to kindergarten age, and while junior is in that age range, you'll probably find it to be the most used piece of play equipment in your house.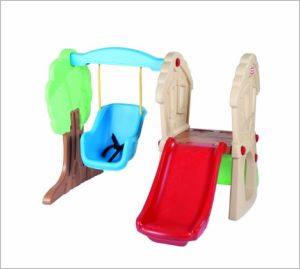 Little Tikes Hide and Seek Climber and Swing
If you'd like something a bit cheaper and simpler, the Little Tikes Hide and Seek Climber and Swing is a much more budget-friendly option for a one child family. Here you have a baby swing, with a harness, and a little tiny climbing wall and little slide. It's perfect playground equipment for a young toddler who needs a safe place to explore at home, but don't expect anything large or especially sturdy here: this is a simple swing set for a younger toddler.
A Toddler Swing Set With No Extra Bells or Whistles
Or do you have a place to mount a swing, and all you are looking for is the swing itself rather than  a plastic slide and toddler swing set? It's not expensive to get a simple baby to toddler swing that can be used for a small baby as well as for a chunky toddler, either with a three point or five point harness.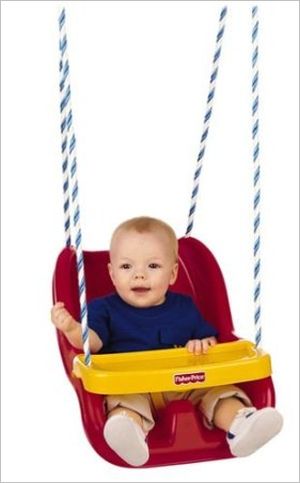 Fisher-Price Infant to Toddler Swing
The Fisher-Price Infant to Toddler Swing is Amazon's #1 in Toddler Outdoor Play purchases, and there are plenty of reasons why.  It's a fun red and yellow swing seat that , with a three point harness and tray to hold a child in, allows even the youngest toddler  or baby to swing safely.  The four ropes can be adjusted to make the swing lean back for baby, or stay vertical for a toddler who wants to be able to see everything.  If the ropes are un-properly installed or unbalanced some parents report that the swing can turn upside down, but this doesn't happen if it has been carefully installed. 
Another option is the Step 2 Infant to Toddler Swing. There's no tray on this, but the harness is ultra-safe and there's no way your child can fall out of this seat after being buckled in. This swing is easy to clean, easy to play with, and ultra-sturdy, and a best-loved purchase by parents everywhere. 
Enjoying swinging your toddler in his new swing set, and as you're pushing him, and teach him the old Robert Louis Stevenson poem that begins:
"How do you like to go up in a swing?
Up in the air so blue?
Oh I do think it the pleasantest thing,
Ever a child can do!"
Click here to return from Toddler Swing Set to Outdoor Toys for Toddlers