Toddler Table and Chair Set


A toddler table and chair set may be the perfect addition to your nursery or playroom when your child becomes old enough to want to get off the floor sometimes and 'work at a table' just like mommy and daddy. The big dining table is really too big to be accommodating; you'll have to help him up, stick a few phone books under him or put him in a booster, and then when he's done you'll have to help him down. Even when your toddler has grown old enough to climb into and out of regular dining table chairs himself, they just aren't comfortable to sit on: legs dangling from a too tall seat is not a relaxing way to do anything, even coloring in a coloring book. 

So consider providing your child with a toddler table and chair set. You don't have to spend a fortune on one; after all, your child will use it for only a few years and then it will be outgrown. If your child will have younger siblings, though, or is a rough player himself, it is worth spending a little more and buying quality.
A Toddler Table and Chair Set in Durable Plastic
One nice plastic chair and table set that is both sturdy and budget friendly is the Step 2 New Traditions Table and Chair Set. This set contains two chairs and a table; both made of sturdy, child safe plastic in natural tones. Made in the USA, this is a durable, high quality table that can be used both indoors and outdoors and take a heavy dose of normal toddler wear. The table surface can easily be wiped off after a messy meal, and even crayon markings that have somehow found their way off the paper they were meant to go on can be scrubbed off without much trouble.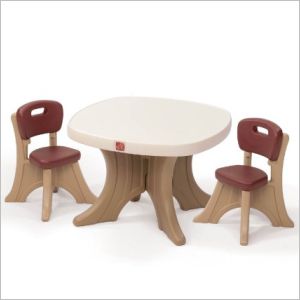 Step 2 New Traditions Table and Chair Set
What are the downsides of a table and chair set? The only complaint made against it is its size, so be sure you know who you're buying for: this is a perfect table for a two, three, or possibly four year old, but if your child is older than five you will want to look for something bigger. 
If You Want to Go Wood…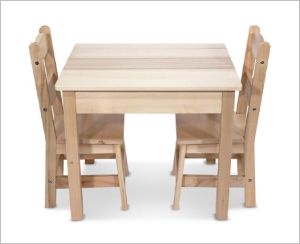 Melissa and Doug's Wooden Table and 2 Chair Set
If you decide to go with a wooden table rather than a plastic one, be aware that your toddler needs sturdy, solid wood—a cheaper press wood table just doesn't answer to toddler use. One of the sturdiest designs available at a budget price is Melissa and Doug's Wooden Table and 2 Chair Set. This set has a natural wood finish that will fit well with any décor, but the clear urethane finish means you shouldn't have any problem cleaning up food spills or craft time messes.  The chairs are eleven inches in height, so perfect for three, four, and five year olds; and they are sturdy enough to take grown-up weight—even if you're not a gym mama!  Climbing on the table and jumping down to the chairs is not recommended behavior—your toddler will likely end up with bruises and perhaps a scrapped knee before long—but the table, at least, will survive rambunctious behavior.

Found something you like? Now all you need to do is order that toddler table and chair set, so the coloring sessions, craft times, and tea parties can begin!
Click here to return from Toddler Table and Chair Set to Toddler Furniture

Click here to return from Toddler Table and Chair Set to Home Page