Toddler Tables and Chairs


Toddler tables and chairs are handy for craft-time, for snack-time, for story-time, and for a thousand other occasions when you or your toddler want a bit more orderliness that is possible on the floor.

There's the big kitchen or dining table, of course, but would you like to always have to figure out work-arounds for furniture that is more than twice too big for you? No, you wouldn't, and neither would your toddler. You can get a booster so your toddler can participate in family meals, but toddler tables and chairs are still a useful purchase for the toddler-sized occasions that pop up throughout the day.
Toddler Tables and Chairs at Your Home
How many toddler tables and chairs do you need? It depends on the layout of your house, how much room you have, and how much you want to spend on toddler-sized furniture that will be outgrown. Often it is useful to have two sets of toddler furniture; one for a corner of a (large) family room or living room, another in the playroom/bedroom.  You can do with just one, and place it in either in the playroom or living room, depending on where you'd prefer to do table-oriented activities with your toddler.
Tables and Chairs for Toddlers: You Have Options
What kind of furniture would you prefer to use with your toddler? Sturdy wood sets that match your rustic theme? Light weight plastic furniture in bright colors?   Options abound.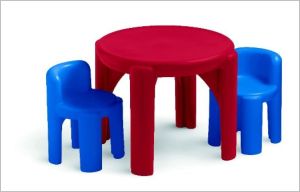 Little Tikes Table and Chairs Set
One nice plastic set is the Little Tikes Table and Chairs Set, a lightweight but sturdy set with two little blue chairs and a matching red table.  Each piece of furniture is seamless,  easy to clean and without crevices for food or grime to hide in.  One downside of this set is the table has a tendency to slide about on hardwood floors or other slippery surfaces; you can correct this problem by adding grip pads onto the feet.  Otherwise, it's a fun set that your children can enjoy playing with.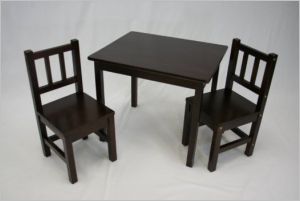 the eHemco Kids Table and 2 Chairs Set in Hard Wood Espresso
If you'd like a classy looking piece of wooden furniture for your toddlers rather than something that looks like it belongs in a daycare, try the eHemco Kids Table and 2 Chairs Set in Hard Wood Espresso. Here's a sturdy table that also looks nice; the wood is high-quality, the finish is thick. The table is a little small for using with more than one child, although it can work for such low-workspace-area times like snacktime; for craft projects, two children are likely to get in each others way. For one toddler, though, it might be pretty much the perfect table. 
Bracelet Babies Folding Table and Folding Chairs Furniture Set
Want a folding toddler table and chairs set that you can put down when the toddler is ready to use it, and take up again when you want the floor space? One top-rated set is the Bracelet Babies Folding Table and Folding Chairs Furniture Set - a bright colored set that will add color wherever you put it.  The push buttons on the chair provide a safety mechanism, so your youngest toddler won't fold his chair by accident but you can put it away easily. Both chairs and table have rubber caps on the legs.  This set is meant for children from 1-6 and works for children on both sides of that spectrum, but it is ideal for the 2-4 age range.
Click here to return from Toddler Tables and Chairs to Toddler Furniture

Click here to return from Toddler Tables and Chairs to Home Page