Toddler Tiger Costume


A toddler tiger costume surely to transform your toddler into a roaring, prowling stripey in seconds!  And though you can make one yourself, the order-in options are so fun and convenient it is scarcely worth it. 

What do you need to know before shopping online? The key to buying a toddler tiger costume- or any costume—on the internet is to pay attention the sizing; costume sizing is notoriously nonstandard, so don't expect the numbers you see on a costume listing to mean the same thing as the numbers on your child's Carter's shirts or Gerber Jeans.  Read up on what other  parents say on whether your choice of costume runs true to size or runs large or small, and then order accordingly. 
What are the best tiger costumes for kids available online? Here we'll look at two—and then another—that other parents have rated as generally top-notch.  All three are available on Amazon, so you can order safely and have the costume of your choice delivered to  your home in hardly any time at all. 
Buying a Toddler Tiger Costume on Amazon: Top Choices
InCharacter's Baby/Infant Tiger Costume
If you have a younger toddler, there may be nothing cuter than InCharacter's Baby/Infant Tiger Costume; a fun baby tiger costume that comes in several size options, the largest being 2T. Parents report the sizing here is generous, but that it needs to be: the costume material is thin and, unless you are living in Florida, you will probably  want to do some serious layering before taking your child out on Halloween night. That said, it is a beautiful shiny orange and black fabric, and the design is top-notch. Since it is a one-piece jumpsuit with attached hood and no-skid bootie, it is ideal for indoor wear or for a non-walker outdoors: prowling down sidewalks in this thing is like walking around in your socks.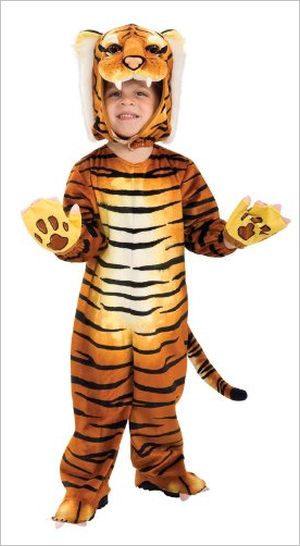 Silly Safari's Tiger Costume
A larger toddler—or one that wants to walk on his own two feet outside—will have fun with Silly Safari's Toddler Tiger Costume  —a striped jumpsuit with a headpiece and tiger mittens. No cutesy baby tiger here—the headpiece will turn your innocent toddler into a ferocious looking beast—but certainly lots of room for creative play and exciting tiger fun.  The material is fairly high quality, and the design allows for a comfortable fit.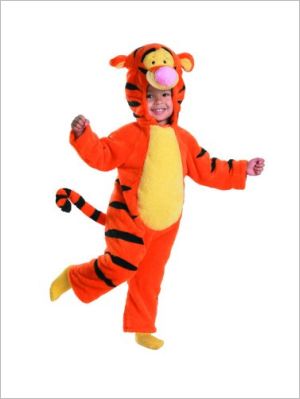 Tigger Deluxe Jumpsuit costume
Or is your toddler more into Tigger, as in the one and only Tigger from Winnie the Pooh, rather than a boring realistic tiger?  There's no reason he can't be that loud, bouncy, and 200% friendly animal creature: Disney has an official TiggerDeluxe Jumpsuit costume available in toddler sizes. The Tigger Costume is made of double sided plush, so it will be comfortable for your toddler to wear and comfortable for you when you're giving him the squeezes he deserves.  Those double layers also make it warm; a good thing if you're going out in chilly weather, not so good if you're attending a party in an overheated room. Regardless,  this costume is as playful as is tigger and your child will look super-cute with it on. The only problem parents report is that getting it on is not as easy as it should be because of a too-short zipper. 

Have fun with your little tiger—or Tigger—and enjoy prowling about and exploring new jungles!
Click here to return from Toddler Tiger Costume to Toddler Costumes

Click here to return from Toddler Tiger Costume to Home Page