Toddler Travel Bed


A toddler travel bed is a special bed that your toddler can take along with him when you travel, andhe'll  still have a familiar place to sleep in at night or naptime even when he's not at home. You've probably heard it said many times that toddlers thrive on routine, and they do: your toddler needs as much stability and sameness in his life as possible, even when you're on vacation or visiting Grandma. Sure, he might be able to sleep in Grandma's spare bed or the big twin bed at the hotel, but if he has his own special bed he will feel a hundred times more at home and secure. 

What kind of toddler travel bed should you get for you toddler? Your main options are a pop-up cot type bed with foldable legs, or an inflatable bed. 
A Toddler Travel Bed for Nights Away From Home: Your Best Options
Regalo My Cot is a simple fold-up cot; perfectly sized for a toddler or preschooler. This cot is easy to set up and easy to take down, and packs away neatly in a compact travel sleeve. Set up, it's a comfy travel bed for toddlers that is close enough to the floor to make it easy for a toddler to get in and out, and though there are no rails, the lower middle means it is unlikely your little one will roll out.  There are both pink and navy blue options; buy the one that best fits your toddler's color preferences.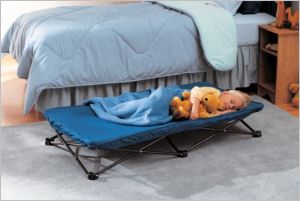 Regalo My Cot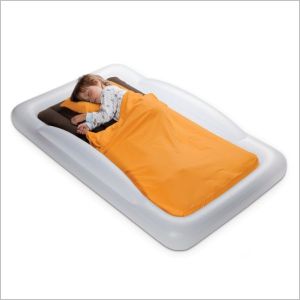 Shrunks Indoor Travel Bed
But maybe a fold-out cot won't cut it for your toddler—he needs a toddler travel bed that looks more solid, more like his bed at home. Maybe then the Shrunks Indoor Travel Bed is for you. There's a reason this bed is a #1 bestseller in toddler beds: it's an easy to set up, comfortable, perfectly sized bed to take along with you and your toddler when you go on overnight trips. The bed is actually two inflatable parts: a toddler mattress and a security rail; and you can tuck your toddler's own crib sheets onto the toddler mattress for a neat, secure fit. What this means is that if your toddler sleeps on firetruck bedding at home, he can have his firetruck bedding when you're spending a weekend at the seaside. If she never sleeps on anything that's not pink flannel, bring a pink flannel crib sheet to make up the travel bed with.Shrunk's Indoor Travel Bed comes with an electric pump, so it'll only take you five minutes to set up.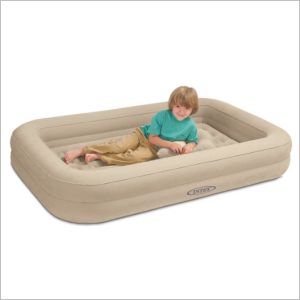 Intex Kidz Travel Bed
A similar inflatable bed is the IntexKidz Travel Bed. This bed also sports a separate mattress that its standard crib sheets, so you won't have to worry about separate bedding and can give your child the extra security that comes with sleeping on his 'own' sheets. The 'rails' on this bed are much more substantial than that on Shrunks Travel Bed, so this might be a better choice if our toddler moves around at night or likes to bump on the side of his crib as he goes to sleep. Rather than a simple raised rail, these sides are more like the sides of a kiddie pool: impossible to roll out of. As this bed comes with a handpump, expect to spend around ten minutes in set up; but for your very own toddler bed ready in a new place, that is pretty reasonable. 

Have fun traveling, and may your toddler sleep well in his special bed!
Click here to return from Toddler Travel Bed to Toddlers Furniture