Toddler Uggs


Toddler uggs. As far as the grown-up versions go, people seem to have a love hate relationship with uggs: either they're horribly ugly or ridiculously cute, either nice and comfy or immensely clunky. Uggs for toddlers though, are less of battleground. Most agree they are just plain cute. 

The Bottom Line On Uggs
What are uggs, though? At their most original, they're Australian sheepskin boots made with double-sided sheepskin: the fleece on the inside, sheep leather on the outside. Today uggs are made and sold all over, in all sorts of variations, and there are both synthetic and sheepskin versions available. In the U.S. and many other places, Uggs is considered a brand name for a  sheepskin boot manufactured by the company Decker. In Australia, Uggs is not a company or manufacturer; it is simply a non-trademarkable name for a particular type of shoe. 
Why would you want to buy uggs for your toddler? Maybe because:
• They look stylish—and fit pudgy toddler feet as if they were designed for them
• They're warm and cozy—double-sided sheepskin is as good an insulator as it gets. 
• They're made of natural material—and as such, mold themselves to your child's feet for a perfect fit 
Real Toddler Uggs You Can Buy Online

You might be able to find uggs in your local shoe store, but if you order online you can check and double check that you're getting the genuine product. Synthetic look-alikes are all very well and good, but your toddler's feet deserve the real thing. 
For a soft-soled boot your child can wear inside the house—or outside so long as the ground is relatively dry—have a look at the UGG Boo Bootie. This pull on bootie has laces in the back and a very full wool cuff; the sole is stamped suede, and has enough texture your child shouldn't have trouble slipping on hard-wood floors.  Since they inside is all real wool, any sweat or moisture is naturally wicked away from your child's feet. It's easy to stay comfortable and dry when you're wearing uggs.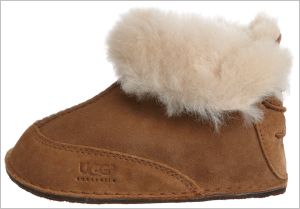 UGG Boo Bootie
Of course, there's only so much water even sheep skin can absorb. Since these don't have hard soles, they shouldn't be worn into rain puddles or slushy snow.   Dry snow is fine, and damp pavement won't be a problem; anything worse than that and you should probably find other footwear.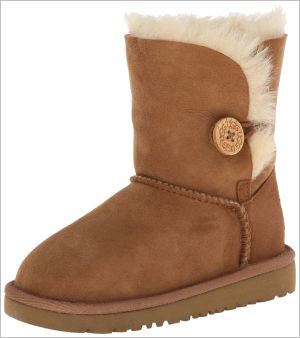 Bailey Button Denim Suede Boot
Like the UGG Australia Unisex-Child Bailey Button Denim Suede Boot. This boot is another real ugg, made of real double-sided sheepskin, but it has a rubber (EVA) sole that keeps your child's feet a little off the ground.  The sole is reasonably flexible, and comfortable to walk on. The form is standard ugg, but there's a wooden button fastener on the side. The inside is nice and wooly, but there isn't a substantial cuff as for the Boo Bootie.
The Bailey Button boot comes in twenty six colors, so if you don't like the natural brown no worries: you're sure to find something that suits you. 

Toddler uggs may be expensive, but they're certainly a quality boot that will keep your child's feet warm, dry, and comfortable.
Click here to return Toddler Uggs to Toddler Footwear