Toddler Wagons


Toddler wagons and carts are great fun for little people. They can be ride on toys, if mommy, daddy, or another child is willing to pull. They can be cargo wagons, with all of the toddler's treasures piled on board. They give the toddler a feeling of independence, of mobility, and of strength. It's good to be able to take your junk with you wherever you go.

Age-Appropriate Wagons for Toddlers
When is your child ready for a toddler wagon? Even before he or she can walk independently! Although walking is a prerequisite for pulling the traditional flexible- handle wagon, there are special walker wagons available with a push-or-pull bar at just your toddler's height, so they actually help your toddler learn to balance. When walking is mastered, they can keep on using a walker wagon, or you could get a wagon with a regular handle as well. And of course, you can you're your child in a little wagon as soon as he's old enough to enjoy it. Standard wagons for kids will be well-used in various ways up until your child is at least six, and quite possibly well beyond.  
The Best Toddler Wagons You Can Buy Online
Whatever type of toddler wagon you decide to buy for your little guy or girl, you'll probably be able to find the best specimens online. That's because the internet brings storefronts throughout the world to your computer, and you can choose from local listings and items that are half a country away.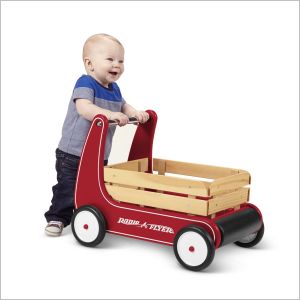 Radio Flyer Classic Walker Wagon
• For a sturdy walker wagon, you can hardly do better than go with the Radio Flyer Classic Walker Wagon: A bright red wooden wagon with shiny black and white wheels and removable wooden stack sides. Since this is designed to be a 'resist push' wagon, it won't escape across the room as soon as your child puts a little pressure on the handle and can help him to find confidence to take those first steps. This wagon was obviously designed by someone who knew about wild, clumsy toddlers, and there's a special bumper that'll protect your furniture when your child begins to pick up speed and go hurtling through the house with it. One nice thing about this wagon is that it doesn't look like a baby's walker: it's a real, classic, little kid wagon; but it works wonderfully to teach your child to walk as well.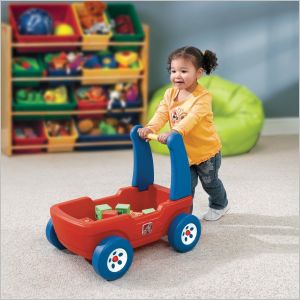 Step 2's Walker Wagon
• Another quality toddler walker wagon is Step 2's Walker Wagon: this fun looking, clunky wagon is made of sturdy plastic, and it has the same special push handle that is so helpful for little people who just want to start walking. This wagon comes with a set of fun blocks, but they don't need to stay in the wagon: your toddler can cart around whatever he desires.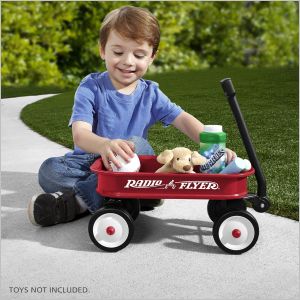 Little Red Toy Wagon
• If you want a little wagon for your already walking child to cart his toys around in, two good options are the Little Red Toy Wagon or the Little Tykes Lil Wagon (sturdy plastic). Both are well-designed, sturdy, and won't be an eyesore in your child's playroom.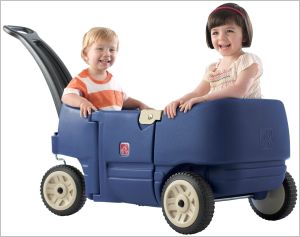 Step 2 Wagon for 2 Plus
• If the wagon is to be for carrying passengers, a good choice would the Step 2 Wagon for 2 Plus. This wagon has seats for two children (fitted with seat belts, just in case you're taking them on a wild ride), and the handle is long enough to make it comfortable for an adult to drag it around.  There's a little latched door in the side to make it easy of the passengers to get in and out.

Click here to return from Toddler Wagons to Ride On Toys for Toddlers