Toddler Winter Coats


Toddler winter coats are indispensable during this freezing season. If you live where it's really cold out, don't plan to have your toddler stay out for very long at any one time—fifteen minutes of playtime may be quite enough in one go. It's important to bring your toddler in before he gets cold and miserable; not after his appetite for outside play has begun to wane and his little nose has started to run.  It seems we spend longer getting our children ready than they actually spend outside, but that outside time is quality time, and the little bit of extra work dressing and undressing them is worth it. 

What to Look for in Toddler Winter Coats
Buying winter coats for the little ones can be fun, but also overwhelming for some parents. What is important, what is not? Here are some key things to keep in mind:
Warmth: the reason you're buying this coat is to keep your child warm, so don't let designer models or fancy appliques and colors distract you from that goal.
Mobility: Toddlers need to be able to move around, so choose a winter coat that offers optimal flexibility. Those puffy snowman coats are cute, but if your toddler can't move in them, he is going to hate putting it on—and will never enjoy playing out in the snow, either. 
Easy Care: Snow looks beautifully white and clean, but sometimes snow and mud get mixed, and your toddler comes home from a winter outing looking like he's been through the swamp. Make sure your winter coats are easy to wash; the most convenient are those that can simply be thrown into the washing machine for a quick launder. 

Where to Buy Winter Coats for Toddlers
You can buy winter coats at your favorite children's clothing store, at some outdoors clothing outfitters, or online in a marketplace like Amazon.com. Some possibilities:
Puma Encore Bubble Jacket Toddler
For a little boy, one nice option is Puma Encore Bubble Jacket Toddler, a warm jacket with a water resistant, wind resistant outer layer and cozy polar fleece on the inside. The color is bright red, a favorite among toddlers, and there are two working pockets and a (smallish) hood.  This jacket is 100% polyester, and is machine washable: care is as easy as it can get.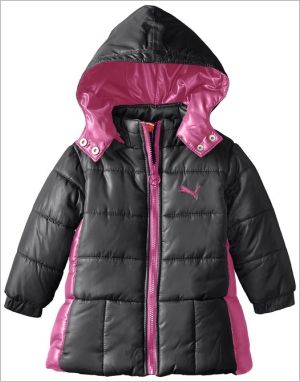 Puma's Peplum Puffer Toddler
A cute little girl's winter coat is Puma's Peplum Puffer Toddler, a warm, slightly longer jacket that comes in three color options: black (with dark pink accents), Beet Root Purple and Purple Cactus Flower.  The thick polar fleece inside will keep your daughter feeling cozy and comfortable, while the outer layer drives away the wind. This jacket can also be thrown straight into the washing machine, so let your little girl get as dirty as she wants when playing outside.
Of course, that is only the beginning of your choices. Have fun shopping for toddler winter coats, and buy something warm, practical, and flexible for your little one!
Click here to return Toddler Winter Coats to Toddler Winter Clothes