Toddlers Halloween Costumes


Toddlers Halloween costumes: they're fun to plan, fun to put on, and fun to surprise the neighbors with! Our website has reviews of a wide a variety of Unique Costumes for Halloween; here we'll look at just one fun way to dress up your little boy: in a Lion Costume.

Guide to Buying a Toddlers Halloween Costumes (A Lion, Especially)
What is the key to a lion costume? Well, most would agree that the dealbreakers are:
• A convincing headpiece, with an impressive mane framing the face
• A well-looking tan body
• A long lion tail
But for anyHalloween costumes, there are other factors to be considered as well.  Before you buy, you'll want to find out if the costume you are considering is:
• Comfortable to wear
• Easy to put on
• Easy to wash
• Durable enough for play
Most of these are obvious enough. If the most adorable costume in the world is not comfortable to wear your toddler is likely to refuse to wear it. Even if it is comfortable when on, dressing will be a struggle unless it is easy  to put on. And since everyone knows how good little people are at making messes, toddlers Halloween costumes should always be easy to wash. Who wants to make constant trips to the drycleaners?
If you mean the costume you buy to be worn only on Halloween, you may not care much about the washing instructions, and the only durability you'll be looking for will be that it is durable enough to last the night. But if your toddler is super-cute on Halloween, wouldn't you like to let him reuse the costume for his dress-up playtimes? And then the quality of the costume matters again.
Two Lion Toddler Costumes Perfect for Halloween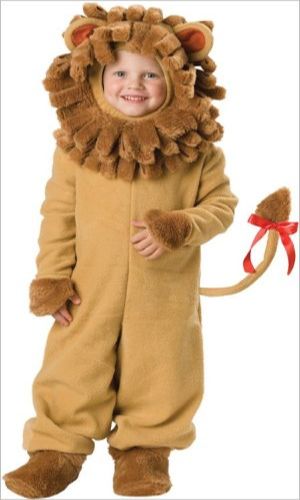 InCharacter Baby's Lil' Lion
Perhaps the best all-round toddler costume for Halloween is InCharacter's: an Infant Lion Costume  with sizes that run up to 24 months and the almost identical Baby's Lil' Lion, in medium 4t, M, and S. This is a 100% polyester outfit, a soft fleece-type material that feels as cozy as it looks. It is lined with a soft, comfortable lining, and will keep your toddler toasty on those chilly autumn nights,  There is an impressive full mane, and the tail, attached with Velcro,  is nice and long.  The Lil' Lion version, at least, seems to run small, so you may want to consider ordering a size up.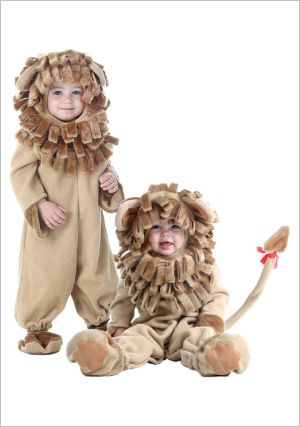 Fun Costume's Little Boys' Deluxe Toddler Lion Costume
A similar lion costume is Fun Costume's Little Boys' Deluxe Toddler Lion Costume.This fleece costume includes the bodysuit, with attached mittens and tail, bootie-style slippers, and a headpiece. The cut is nice and roomy, but it does tend to run a little big. This may be one of the first cases we've seen that demonstrate that there are some Halloween costumes for kids where you don't want to order the size up. 

Lions are fun, and your toddler has the potential to make one of the cutest lions around. Will these outfits be your toddler's Halloween costume this year?
Click here to return from Toddlers Halloween Costumes to Home Page