Easter Crafts for Toddlers
It's almost spring-- time to start thinking about Easter crafts for toddlers! Easter is a beautiful celebration of resurrection and life, and it comes at a perfect time to do your crafts with your little one. Outdoors may be too wet or windy to be out much, but it's so beautiful that you two probably feel antsy indoors, wishing you could go out. What do you do when faced with that problem? Think of extra-fun things to do indoors—like working on Easter crafts with your toddlers!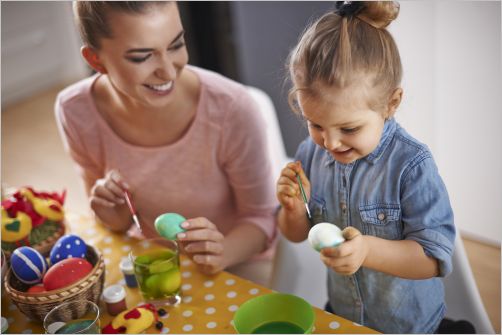 Favorite Easter Crafts for Toddlers

Paper Plate Chickies

This first item in our collection of Easter crafts for toddlers is simple enough for even the youngest toddler. 
Materials:
• 1 large paper plate
• 1 small paper plate
• Yellow paint
• One googly eye
• Three red triangles (beak and feet) and two red rectangles (legs) cut out of construction paper.
Staple or glue the two plates together so the small plate is positioned as the head of the duck. The large plate is the body.
Then give your toddler the paint and paintbrush, and let him go all out in painting it yellow! This is fun because, with one color, there is nothing he can do wrong. Let him paint until he decides he is done.
Help him glue the eye onto the appropriate position on the chick's head, and  one of the triangles for  a beak. The red rectangles get glued in place under the body, and the feet get glued to those. Let your chicken dry, and then hang him on your child's bedroom wall.
Easter Egg Sunshine Makers
These colorful see-through eggs are fun to make in quantity and hang from your window. It'll make your house look Easter-festive right away!
Materials:
• Contact paper (shelf paper)
• Glitter
• Bits of colored paper
• Bits of ribbon
• Little duster feathers, colored
• Sequins
Cut your contact paper in rectangles about the size you want your eggs to be (2.5 by 1.5 inch is a good place to start!) Take the backing on one and lay it sticky side up on the worksurface; tape it in place so it doesn't jiggle as your child is working. You may want to have drawn an egg on the worksurface, or laid an egg template there, so that your child knows what the final shape will be. Have him place little collage items- bits of feathers, sequins, glitter or bits of ribbons—all over the 'egg part' of the rectangle.  When he is finished, cover it with another rectangle of contact paper, and seal carefully. Cut it into the shape of an egg, and use a hole puncher to make a hole through which to string a ribbon.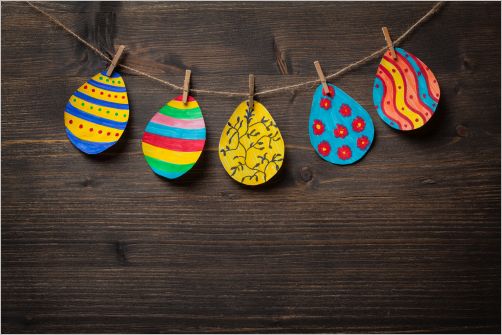 Footprint Chickie
Materials:
• Yellow paint
• Dish to put the yellow paint in
• Paper
• Googly eye (optional)
• Black and red markers
Dip your child's foot in the yellow paint and have him step on the paper to make a footprint; toes down, coming up from the bottom of the paper at a 150 degree angle. 
Wash his foot, then let him use  his fingers to make some feathers sticking off the right side of the chickie. Let him glue a googly eye near the top, on the head, and help him draw a little red beak and little black legs. Both will be on the right side; the beak just a little below the top of the heel, the feet about 1/5th of the way up. The toes are fluffy tail feathers. 
Wooden Spoon Puppets
Materials:
• Wooden Spoon
• Yellow Paint
• Googly eyes
• Yellow feathers
• Small red triangle, cut out of felt or paper
• Glue
Take the wooden spoon and let your toddler paint it yellow—all yellow, every bit of it. Then help him stick the googly eyes on the round back of the spoon, and the red triangle under it for a beak. Help him glue the feathers around the front of the spoon and on the lower part of the handle. Make several, and when they dry, help him put on a puppet show!
These are just four Easter crafts for toddlers, but it should you enough to get you started in with springtime crafting. 
I hope you have fun with these Easter arts and crafts for toddlers, and that you and your toddler make lots of fun, cute projects to display on the holiday.  What Easter crafts for toddlers are favorite in your household? I'd love to hear about them—please share your craft ideas in the comments below. 
Click here to return from Easter Crafts for Toddlers to Crafts For Toddlers
Click here to return from Easter Crafts for Toddlers to Home Page