Toddler Bedroom Furniture


What toddler bedroom furniture will he need when your little one is moving into his own toddler room?  You may be able to transition some of the nursery furniture into the toddler room. Otherwise, here is a good list for starters. All items have been hand-picked for you, and are made by reputed manufacturers of children's toys and other kid items.
Top Toddler Bedroom Furniture
Toddler Bed – the toddler bed is probably the first piece of furniture you should buy; it is certainly the most essentially. There are toddler beds available for in a wide variety of fun, whimsical styles, and many of them are very budget-friendly. Or, if you'd like to minimize the number of purchases you make over the next ten years, you can also buy a full twin-size bed and a side rail for your toddler, and teach him to sleep in a 'real big kid's bed'.
Toddler Nightstand – Unless your bed has shelves or a nightstand built in, you'll probably want a little bedside table by your toddler's bed to keep handy all the little things he may need during the night; a lamp, perhaps, or nightlight, and maybe the inevitable glass of water.  One possible toddler nightstand is the Kidkraft Tiffany Toddler Side Table.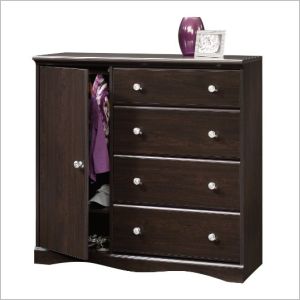 Child Craft Chifforobe
Toddler Armoire – A full sized wardrobe is difficult for a little toddler to navigate, so if you'd like your toddler to learn independence in dressing and putting away clothes you'll want a toddler-sized wardrobe that isn't overwhelming. Something like the Child Craft Chifforobe is ideal, and that will give you a place both to hang shirts and dresses as well as room to fold and put away t-shirts, pants, sleepers and underwear.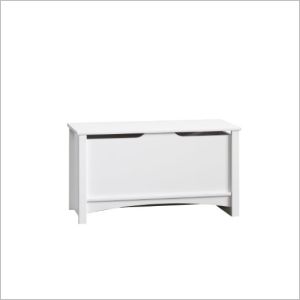 Craft's Shoal Creek Chest
Toddler ToyChest – Toys are wonderful, but they need to be put away, so when buying toddler furniture get an easy to open, easy to close, wide mouth toy chest or bin that can fit all or most of your toddler's toys.The toy chest can either be a wooden chest in a traditional style, like Child Craft's Shoal Creek Chest, or a light weight canvas-style chest like the 3 Sprouts Elephant Toy Chest.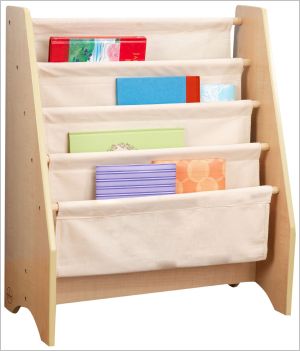 Kidkraft Sling Bookshelf
Toddler Shelf—Picture books are nice to have always on display on a shelf, ready to grab whenever your little one wants a story.A shelf may not be essential toddler bedroom furniture, but a carefully chosen, nicely arranged toddler toy shelf does add a great deal to the look and feel of your child's bedroom.You can either go with a conventional  shelf—make sure your toddler can reach to the top level without climbing—or a sling bookshelf, such as this one from KidKraft, which fits fewer books but may be easier for little people to keep neat.
There are always lots of extras you can put in if you've got the space—a toddler table and chair set, for instance—but when buying toddler bedroom furniture it's also important to make sure you don't clutter things so much there is no room to play, relax, and just live.  Too little furniture, and you've got no place to put your toddler's clothes, toys, or books; too much furniture, and there's no room to move. Find the happy median. 
Click here to return from Toddler Bedroom Furniture to Home Page