Toddler Tablets


If you're looking at toddler tablets for a gift for some special little person, you may be struck by the huge difference in capabilities between different models.  Some toddler focused-tablets are really made to be nothing but a toy, and can beep or show fun pictures when buttons are pushed or the screens are swiped, but something more. Others have the ability to install any android app—and that means a lot. Some have  little pixelated screens and are directed by buttons, others are fairly modern looking touch screens. Of course, you're not going to get something iPad quality until you're ready to pay for an iPad for your child—and I wouldn't recommend doing that until he stops breaking things at such an overwhelming rate!

First Stage Electronics: Simple Baby and Toddler Tablet
If you want a basic tablet that will teach your child letters, numbers, or shapes and colors, these three simple devices may be right up you aisle.  
• The Vtech Little Apps Tablet is an old-fashioned little tablet with a keyboard on the front, and the tiniest of pixelated screens. It's still a best seller because it's so fun for little people, though, and it does have the potential to teach them something. There are twelve learning activities, and the aim of them all is to teach your child letters, counting, number order, and matching.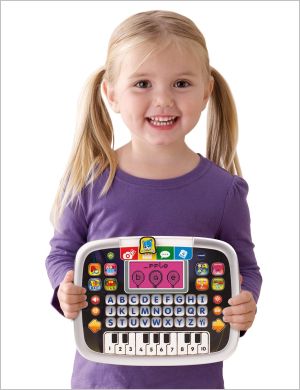 Vtech Little Apps Tablet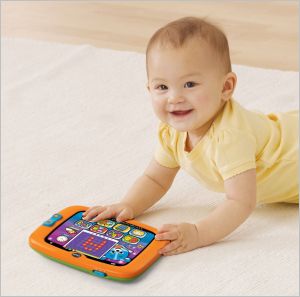 VTech Light-Up Baby Touch Tablet
• If your toddler has had enough exposure to your electronic devices he won't be satisfied with anything less than touch screen, you can get him the VTech Light-Up Baby Touch Tablet. Here's a little touch screen advice that at least looks more like a real tablet, with apps and all. The pretend apps include such things as a clock, fake weather and fake email, and learning tools that will help your child master his ABCs, shapes and colors, and letters. There are also lots of fun songs programmed into this little tablet, and your toddler will have the opportunity to learn some new vocabulary.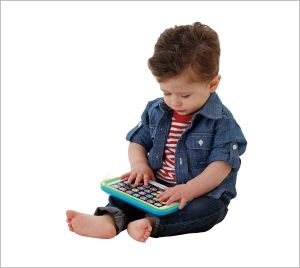 Fisher-Price Laugh and Learn Smart Stages Tablet
• Then there's the Fisher-Price Laugh and Learn Smart Stages Tablet. Okay, it's simple, but it's still a cool  tablets for younger toddlers. The touchscreen features a display of all the letters of the alphabet with mini-pictures, and when your child presses a letter, he gets to hear a vocabulary word or letter, depending on what the stage the tablet is set to. There is also a setting where the toddler is encouraged to find pictures or letters on the screen. 
Toddler Tablets for the More Advanced Child
But what about if you've got an older toddler, or one who has been exposed enough to 'real tablets' like mommy or daddy's iPad that baby tablets don't have the charm anymore?  You can get a fairly sturdy kids tablet that won't break the bank, and it'll be able to actually run whatever apps you download, but don't expect it to be as smooth-working or capable as your devices that cost ten times the price.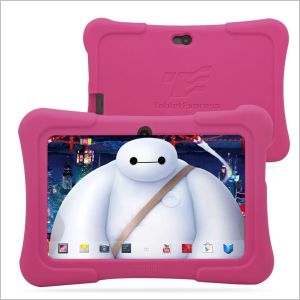 Dragon Touch 7" Qua Core Android Kids Tablet
Like the Dragon Touch 7" Qua Core Android Kids Tablet. This 2015 model is able to access WiFi, which means you can download what you want and install straight from the internet. There are child-safely settings which allow you, and you only, to decide what your child has access to, and you can check up on your child's progress with the Parent Play Along mode. This nifty little tablet also has a camera for your toddler to practice taking pictures with, though its quality certainly isn't much to boast about. 

Click here to return from Toddler Tablets to Sharing Electronics with Toddler