Toddler Crafts
It's time for more toddler crafts! Toddlers love arts and crafts; it gives them an opportunity to create, to use their imaginations, and to make something they'd never have thought of and which they can be incredibly proud of. 
Directory of Toddler Crafts on This Website
I have a number of arts and crafts pages on this site; feel free to browse and find the projects that you'd like to do with your toddler.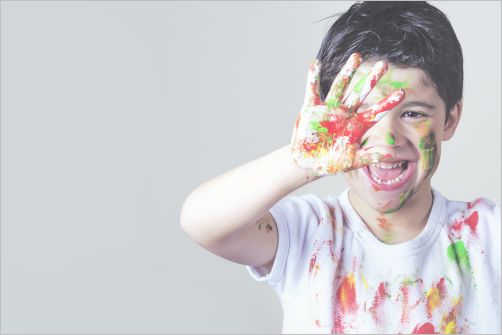 Holidays are always a fun excuse to get crafting. Here  we'll look at some fun Thanksgiving crafts you can do with your child. There's no rule, though, that you can only do these toddler crafts on Thanksgiving; if your toddler would enjoy them you can do them any time of the year!
Thanksgiving Tree
This is a fun project to begin a month or so before thanksgiving. Prepare everything with your toddler on November or thereabouts, and then have your toddler add leaves to the tree every day till Thanksgiving day to get a beautiful reflection of the things he is thankful for.
Materials:
• Felt: 1 yard brown, ½ yard green, red, yellow, or a mixture of the colors. 
• Strong Glue
• Velcro
• Permanent Marker (to be kept out of reach of your toddler and only used by you!)
• Large white paper, poster board.
Draw a large tree trunk and branches on the brown felt, and cut it out. Paste it on the poster paper. If you like sewing and would like to make a thanksgiving tree you can use year after year, you can also sew the tree trunk on a piece of sturdy cloth or a felt background.
Cut out leaves from your colored felt; the leaves should be big enough that you will be able to write a word on each of them with the permanent marker.  Cut the Velcro into small pieces that can fit on the back of the leaves. Glue one side of the Velcro pieces to the leaves. Separate the other side of the Velcro pieces and glue them at different places all over the tree's branches. Let it dry.
Now comes the fun part. Talk about thanksgiving with your child, and how everything we have is a gift we can be thankful for. Tell him some things you are thankful for. Ask him what he is thankful for, and write that on a leaf. Give him the leaf and have him stick it onto the tree with Velcro. 
Everyday, ask him to think of a new thing he is thankful for and stick it on the tree.  If you don't have many days left before thanksgiving, have him do five to ten a day.
A variation on this is to use a tree branch for your thanksgiving tree. Cut leaves out of paper, and use a needle to make a small hole in the leaf and put a string through it. Tie the strings into loops. Again, your toddler tells you what to write; you write it, give him the leaf, and he hangs it on the thanksgiving tree. 
Turkey Hands
Materials:
• Paper
• Pencil
• Markers or crayons
• Feathers, if available
Have your toddler lay his hand on the paper, with his thumb sticking out on an angle, and  trace it. This is your turkey, though it does look like one yet.
Draw a line between his fingers and palm on the paper to differentiate the turkey's feathers and body. Draw a wing on the palm, and draw a face and a little beard on the thumb. If you have stick on eyes you can have your toddler put one on. Draw chicken-style legs coming down from under the turkey, and then have your toddler color it. If you have feathers, glue some on the fingers.
Hang the picture in a prominent place on Thanksgiving day. 
Pine Cone Bird Feeder
You'll all be feasting on Thanksgiving; let the birds in your backyard feast too! If you can combine this with toddler crafts, so much the better, right?
Materials:
• Pine Cone
• String
• Peanut Butter
• Sunflower seeds, millet, rice, or mixed birdseed
Start by tying the string to the pine cone so that it can be hung up.  Then put peanut butter in a plate and have your child roll the pine cone in it. You can also give him a butter knife and let him slather the peanut butter on.
When the pine cone is coated with peanut-butter, have your toddler roll it in another plate containing the seeds. The seeds will stick to the peanut butter, and you'll have a veritable bird feast.
Hang the pine cone outdoors, in a place where you and your toddler can easily see it from your window. 
Thanksgiving Placemats
Materials:
• Paper
• Laminating sleeve
• Glue
• Pictures
• Markers
Ask your toddler what he is thankful for, and provide pictures of those things if possible. Have your toddler cut out the pictures and glue them on the paper. He can draw pictures of the things you don't have pictures for. Laminate the paper and it will be a beautifully personal placemat remembrance of the things your little one is thankful for this year.
Have fun doing toddler crafts with your little one to celebrate thanksgiving this year! I've found that arts and crafts are a wonderful way to get into the holiday spirit and make the holiday not just 'another' thanksgiving but something once-in-a-lifetime special in it's own right. Toddler crafts allow your child to express himself in a permanent or semi-permanent way, and leave you with a beautiful memento of this year's holiday. 
Click here to return from Toddler Crafts to Toddler Activities