Toddler Vomiting Issues? 
How To Treat The Symptoms
| | |
| --- | --- |
| | Toddler vomiting can be an unpleasant situation for both child and parents.It is terrible when our children are sick. There are plenty of sleepless nights, and extra attention we need to give to our toddlers. In some cases vomiting can signal serious conditions. In others, it can just be the case of the flu. |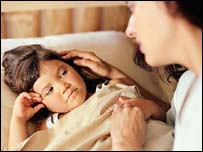 As parents it's better to be informed of what to do and what to look out for when your child starts vomiting. Remember to show your toddler a little extra "LOVE" when they are feeling ill. Always remember to contact your pediatrician with any questions or concerns. Whatever makes you feel at ease is better for you and your child.
Some Reasons Why Your Toddler May Be Vomiting
| | |
| --- | --- |
| | Children vomit for a number of reasons. You'll want to find out what's causing it, though, both to confirm that he's okay and to make him more comfortable. If your child vomits once and that's the end of it, maybe he just ate too much at his last meal. If he continues to vomit, possible causes include: |
Viral or Bacterial Infection: A stomach bug or other intestinal illness is the most likely reason. If a virus or bacteria have infected your toddler's stomach lining or intestines, he may also have diarrhea, loss of appetite, abdominal pain, and fever. The vomiting usually stops within 12 to 24 hours.


Acid Reflux In Toddlers: Acid reflux is common in toddlers. This can be a potential cause of vomiting frequently. Your child may need to be tested to see if this is a problem. Talk to the doc about this condition. Especially if your toddler is vomiting after eating.


Other Infections: Congestion or a respiratory infection, such as a cold, can also lead to toddler vomiting, especially while your toddler's coughing. Toddler allergies may be a culprit as well. An ear infection can sometimes cause nausea and vomiting. Vomiting may be a symptom of more serious illnesses like pneumonia, meningitis, appendicitis, and, in rare cases, Reye's syndrome.


Poison :A toddler may be vomiting if he's swallowed a toxic substance like a drug, plant, medicine, or chemical. Or he may have gotten food poisoning from contaminated food or water is another option.


Crying or Coughing: A child having a tantrum or excessive coughing can trigger the gag reflex and provoke toddler vomiting. Although it's troubling for both of you, throwing up during a crying spell won't physically harm your toddler. Asthma in toddlers can be a trigger for frequent coughing, causing vomiting as well. If he appears otherwise healthy, there's no reason to be concerned.
How To Keep Your Toddler From Getting Dehydrated


| | |
| --- | --- |
| | Dehydration can be a serious problem for young children, and if your toddler is vomiting or has a fever or diarrhea, they are losing fluids their body needs. One way to keep your toddler hydrated when he's been vomiting is to give him an electrolyte solution such as (Pedialyte) as soon as he's able to keep liquids down. |
 Don't force your toddler to drink the electrolyte solution when he's still actively vomiting. But wait until his belly's been calm for half an hour or so, offer him slow, frequent sips — say 1 teaspoon (5 cc) every ten minutes for a couple of hours. Then — if he tolerates that well — increase the amount to 2 teaspoons (10 cc) every five minutes. Continue to progress slowly until the vomiting eases up.
These electrolyte solutions are very mild and easy on the stomach, but if your toddler won't take them, try giving him clear liquids such as water or broth. Juices sometimes make matters worse (especially if your child also has diarrhea), but if juice is the only liquid your child will drink, don't increase the amount he normally drinks in a day, but dilute it half and half with water. He might also enjoy popsicles made from electrolyte solutions or diluted juices. Don't give him carbonated drinks, though, as they're terrible for his teeth and won't help settle his stomach.
Signs To Watch Out For When Toddler Vomiting Becomes Serious
Vomiting is normally not a cause for alarm. But in some cases it can signal a serious health problem. Here's how to tell when your toddler's vomiting needs immediate medical attention.
Call Your Pediatrician When:
Toddler vomiting has been for more than 24 hours. For some illnesses, this is perfectly normal, but check with your doctor just to be sure.
Signs of becoming dehydrated, including decreased urination, dry lips and mouth, crying without tears, lethargy, and dark yellow urine.
The vomit contains blood. A little blood in the vomit is usually nothing to worry about, as the force of vomiting can cause tiny tears in the blood vessels lining the esophagus.
Shows signs of fatigue and jaundice (a yellowing of the skin or whites of the eyes). Jaundice accompanied by pain in the upper right side of the abdomen may signal hepatitis.
Take Your Toddler To The Emergency Room If:
There is severe abdominal pain accompanied with toddler vomiting. Your toddler can't explain exactly where he hurts, but you know him best and can probably tell when he's in considerable pain. He could have a blockage in his bowel or some other problem that needs immediate attention.
The vomit contains bile (a green substance) or blood that resembles dark coffee grounds. The doctor will probably want to see a sample of the vomit if it contains blood or bile, so as distasteful as it is, you should try to save some in a ziploc bag. Green bile can indicate that the intestines are blocked, a condition that needs immediate attention.
A swollen, tender abdomen. This could indicate a buildup of fluid or gas, a blocked intestine, a hernia, or some other digestive tract problem. Blockages are uncommon but serious.
Vomits more than once after suffering a head injury, which may indicate a concussion.
Vomiting and very irritable or lethargic. Your toddler may have a stiff neck, a sign of potential meningitis.
Always remember to call the doctor if your toddler begins to act strange. You are the judge of how your child should be acting. Even when they are sick, we can tell when there is something not quite right with our child. Vomiting is usually not serious in toddlers. However we should always be informed when it comes to our kids.
* I am not a Doctor or Licensed Professional in the field of toddler vomiting. I am a stay at home Mom passing on tips, advice and information that are based on my opinions. Always remember to consult your pediatrician with serious questions concerning your child and their ailments.*
Read Other Great Tips
From Parents Just Like You
Click below to see contributions from other visitors to this page...

Worried Parent 
My two year old daughter was vomiting all day Monday til around 8pm she had a temp of 38 she was up all Monday night needing to drink as she was so thirsty, …
High In Elevation and Child Is Sick 
My 9 month child and I traveled to Colorado Springs from North Carolina 2 days ago. I have noticed that he has a decrease in his appetite and he vomited …
Picky Eater 
My three year old grandson is a very picky eater. His menu consists of waffles, raison toast, rice crispies, grilled cheddar cheese with camoflauged grated …
2 Year Old Vomiting When She Goes To Sleep 
Within 10 to 15 minutes of her going to sleep, she gets a cough and then she throws up completely. She had cold and cough a month back which was cured …
2 yr old Swallowing Vomit  
IS IT HARMFUL FOR A TODDLER TO SWALLOW THEIR VOMIT WHILE BEING SICK? MY FRIENDS 2 YR OLD SON OUT OF THE BLUE BECOME REALLY ILL AND AS THE SYMPTOMS INCREASED …
2 year old vomiting, runny nose, diarriah, fever 
My daughter started off with a runny nose, the next day her nose seemed to stop running but she wouldn't eat and she is throwing up any liquids I give …
23 1/2 month old Toddler Vomiting  
My granddaughter was feeling fine this morning even ate a good breakfast. about 2:oo pm today she threw up and about 2 hours later she did again. And …
14 month old Toddler Vomiting  
It started when my son was 6 months old with high fevers and frequent ear infections. He has stayed congested ever since that time frame. He has been vomiting …
Frequent vomiting by toddler 
My 2 year old boy woke up today with vomiting after every feed or drink. We haven't found anything suspicious in the vomit it's mostly clear or Dodd that …
3 yr old vomiting with no other symptoms 
My son is 3 years old. 3 nights ago he ate super and a couple of hours later he said his stomach hurt. I asked him where and he pointed at his belly, up …
No fever but vomiting 
My 2 year old has been vomiting for almost 24 hours. She has thrown up 3 separate times, each time being more then a cup full, of food she had over 12 …
Strange Vomiting  
My son has been vomiting for more than 4 nights and what is strange is that his vomit came only when he is at sleep he is not eating at all and no drinking. …
15 month old been vomiting since 5 months! 
My 15 month old daughter has been vomiting irregularly since 5 months and just isn't growing out of it. It's not classic reflux, she has been on Rinitadine …
Vomiting with no symptons 
my daughter vomited while at burger king she ate two nugget and had some of her apple juice box? then came home and had a hot dog plain and vomited... …
3 yr old Vomiting Out Of The Blue 
Hello, My 3 yr old son has been fine all day. He went to bed and about an hour after he woke up crying and vomits 3 times - what looks to be his dinner …
2 year Old Vomiting 
Hi! My 2 year old daughter has been vomiting since last night. Friday when she woke up in bed and she had a high fever as well, and today she only ate …
Help With Vomiting Toddler 3 Years Old 
Hope you can help me. My 3 year old has been vomiting since yesterday evening. He cannot seem to hold any food or drink down. Says his throat and stomach …
My Toddler Vomiting Only Water And Fluids 
My daughter has been vomiting water since she was two months old. She is able to eat food, but no liquids goes inside the time when she eats solid food. …
3 Year Old Son Vomiting 
Last night my son woke up three times crying. I really didn't think much of it. When he woke up this morning at 7:30 am he vomited all over himself and …
Toddler Vomiting Phlegm Frequently 
My son who is 20 months old has just started holding the back of his neck. He has been vomiting phlegm for the last 4 hours like maybe every hour. I …
Toddler Forcing Himself To Vomit 
When it is time for bed, my 2 yr old cries and vomits because he does not want to go to his bed in his room. I have tried reading books and rocking him …
Toddler Vomiting Scare 
I have a 16 month old son. For the last 4 months he has had vomited at least once a week, and sometimes more. It is always when he is eating or drinking …
My 3 year old Is Vomiting With No Other Symptoms Present 
Why is my 3 year old vomiting with no other symptoms of illness?
2 year old Vomiting Frequently 
For a little over a month now, my 2 year old son has had bouts of vomiting. It started as an every other day thing and progressed to being every day. He …
3 year old toddler vomiting 
My son is 3 years old. Last week out of the blue he woke up gagging, and swallowing like he was going to be sick. He would allow himself to throw up, and …
Vomiting Mucus Or Saliva 
Hi Ingrid, my 2.5 year old daughter vomited three times last night , first, all her dinner, then water that i gave her (after awhile) and then some water. …
Stomach Flu Virus 
My son started his flu yesterday morning at 9am and vomited all night until 1am when we took him to the hospital. they gave him a shot of gravel and he …
Throw up And Then Swallow 
My son is 3 years old and has had a bad cold for the pass 4 days. Just recently his cough as broke causing him to choke on his spit when he cough. i know …
Toddler Concussions and Vomiting 
My toddler (15mths)has just started daycare this month and picked up a rash, runny nose and a cold. The rash disappeared after a week or so, but last week …
My Toddler Is Always Vomiting Not rated yet
My Toddler will be 2yrs old in a couple of days and has been vomiting since he was about a month old... We knew straight away from when he was a baby that …
Daughter Vomits When She Eats
She is 19 months she is average in weight. she does not act like she is sick she acts normal through out the day poops regular. but when she eats she will …
Vomiting Every Other Day 
My son has since 4 days ago been sick every other day also with diarrhea, however he is sick only the once and probably has 1-2 diarrhea bouts in the day …
Vomiting off and on for a week 
My 13 month old got a stomach bug last Sunday. Vomiting and diarrhea all afternoon and evening. Monday she was fine, normal. Tuesday, she vomited twice …
Cough And Vomiting 
Please can you help, Me& my husband dont know what to do anymore, our two year old daughter is constantly unwell, she suffers with high tempertures, and …
Preschooler vomiting  
My 3 year old threw up at daycare. He was acting fine and then threw up again. He is up playing and states nothing hurts,not even his stomach. Could he …
20 month old vomiting for 3 days Not rated yet
I have a 20 month old daughter who has been vomiting for 3 days straight and has not eaten anything for 2 days, only a little breast milk and a few sips …
My toddler throwing up 
My son who is 3 1/2. Years old and has through up 4 time s tonight he dose not want to drink anything. He has no fever this is. A first for him. What …
2 year old vomiting with fever no diarrhea. Not rated yet
My 2 year old vomited early this morning around 3:30am. She was running a fever so I gave her a dose of baby ibuprofen. I know I am supposed to try baby …
Vomiting while crying 
My son is 1year 9 months old. Whenever he cries he do vomiting. Then the crying can be for any reason like he wanted to have something and we deny, or …
2 YEAR OLD VOMITING  
My daughter 2.10 often vomits projectile for the last 3 weeks or so its been every other day or so usually at night after shes gone to sleep or just before. …
My 3 year old vomiting milk and doesnt want to eat. Not rated yet
My son is a very picky eater and his diet is limited to few food items only and I always have to feed him. Since two weeks now he has started throwing …
toddler throwing up 
My toddler has thrown up twice in the last half hour. what can i do to help him while he's throwing up? also what should i do while he is sleeping? should …
What to do about toddler vomiting once or twice a week? Not rated yet
My daughter is 2 and she's been going through these weird spells where she will vomit once or twice a week and its usually at night. I know when something …
What To Do About Toddler Vomiting At Night Not rated yet
Does anyone have any advice on what to do when my toddler starts vomiting. Thanks, Christy
Leave Toddler Vomiting and return to Child Health 

Leave Toddler Vomiting for Toddlers Home